Parque da Floresta Golf Village House (CP-31)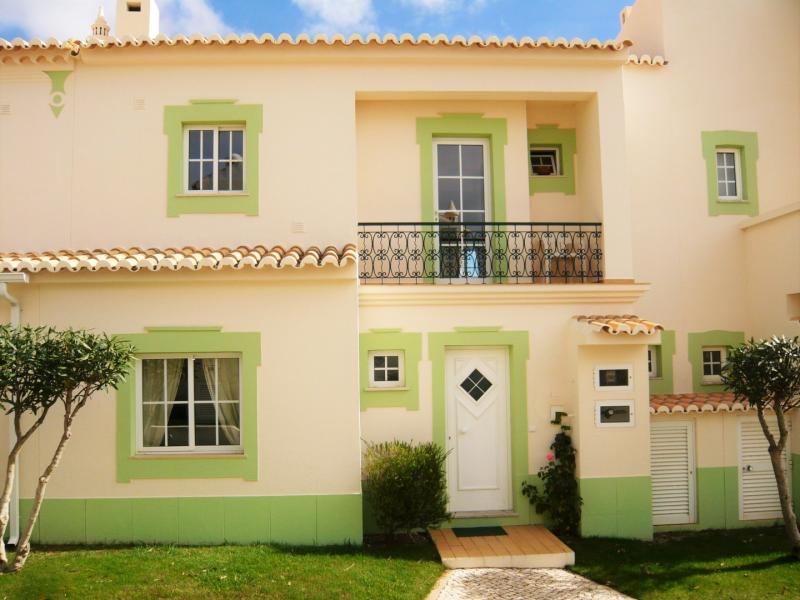 3 bedroom townhouse set in the beautiful setting of the Santo Antonio Golf & Leisure resort of Parque da Floresta. Beautiful views and an ideal location with close proximity to resort facilities such as a large swimming pool, spa, gym and clubhouse.
This three bedroom townhouse has a lovely east-facing balcony with a large dining table, BBQ and views of the golf course.

A fantastic summer let or equally a cosy winter getaway as this Golf house boasts a working fireplace which is perfect for relaxing in front of after a long day on the golf course.

This property has two bathrooms, one on each floor with spacious bedrooms, one double and two twins each with their own individual style and decor.

Access to spa, golf course, tennis courts and other resort facilities.

Close to many beautiful unspoilt beaches, 5km to Salema, 20 mins drive to the historical town of Lagos, & 1 hour from Faro airport.

Note: The house is on the sales market, all bookings are guaranteed however guests may be asked to allow accompanied sales viewings during their stay.


From:
€550/week
RATES:
Low Season: €550/week
Mid Season: €650/week
High Season: €750/week
Peak Season: €850/week
Titular da Exploração do Estabelecimento:
Carlton Palmer
Nº Licença:
GPS (decimal degrees):
37.089250, -8.844213
GPS (dms):
+37º 5' 21.3'', -8º 50' 39.1668''
ENQUIRE NOW
BOOKING REQUEST
PROPERTY MAP
PROPERTY FEATURES:
Fireplace
Fitness Centre
Balcony
Golf - 40% off Green Fees at Parque da Floresta
BBQ
SPA
Golf Resort
Beach towels
Suitable for Children
Swimming Pool: Shared, Childrens
Cable TV
Tennis Court
Car Essential
Hairdryer
Iron & Ironing Board
View: Country, Golf
Kids Club (seasonal)
Microwave
Walking distance to resort facilities
Coffee Maker
Washing Machine
Dishwasher
WiFi Internet Access
Entertainment: Stereo, Dvd Player, International Tv Channels, Portuguese Tv Channels
Parking: Off Street Parking
Availability
August 2019
S
M
T
W
T
F
S

1

2

3

4

5

6

7

8

9

10

11

12

13

14

15

16

17

18
19
20
21
22
23
24
25
26
27
28
29
30
31
September 2019
S
M
T
W
T
F
S
1
2
3
4
5
6
7
8
9
10
11
12
13
14
15
16
17
18
19
20
21
22
23
24
25
26
27
28
29
30
October 2019
S
M
T
W
T
F
S
1
2
3
4
5
6
7
8
9
10
11
12
13
14
15
16
17
18
19
20
21
22
23
24
25
26
27
28
29
30
31
November 2019
S
M
T
W
T
F
S
1
2
3
4
5
6
7
8
9
10
11
12
13
14
15
16
17
18
19
20
21
22
23
24
25
26
27
28
29
30
December 2019
S
M
T
W
T
F
S
1
2
3
4
5
6
7
8
9
10
11
12
13
14
15
16
17
18
19
20
21
22
23
24
25
26
27
28
29
30
31
January 2020
S
M
T
W
T
F
S
1
2
3
4
5
6
7
8
9
10
11
12
13
14
15
16
17
18
19
20
21
22
23
24
25
26
27
28
29
30
31
February 2020
S
M
T
W
T
F
S
1
2
3
4
5
6
7
8
9
10
11
12
13
14
15
16
17
18
19
20
21
22
23
24
25
26
27
28
29
March 2020
S
M
T
W
T
F
S
1
2
3
4
5
6
7
8
9
10
11
12
13
14
15
16
17
18
19
20
21
22
23
24
25
26
27
28
29
30
31
April 2020
S
M
T
W
T
F
S
1
2
3
4
5
6
7
8
9
10
11
12
13
14
15
16
17
18
19
20
21
22
23
24
25
26
27
28
29
30
May 2020
S
M
T
W
T
F
S
1
2
3
4
5
6
7
8
9
10
11
12
13
14
15
16
17
18
19
20
21
22
23
24
25
26
27
28
29
30
31
June 2020
S
M
T
W
T
F
S
1
2
3
4
5
6
7
8
9
10
11
12
13
14
15
16
17
18
19
20
21
22
23
24
25
26
27

28

29

30
July 2020
S
M
T
W
T
F
S

1

2

3

4

5

6

7

8

9

10

11

12

13

14

15

16

17

18
19
20
21
22
23
24
25
26
27
28
29
30
31
Enquire about this property / Booking Request