Villa Lena, Albardeira, Lagos (TB33)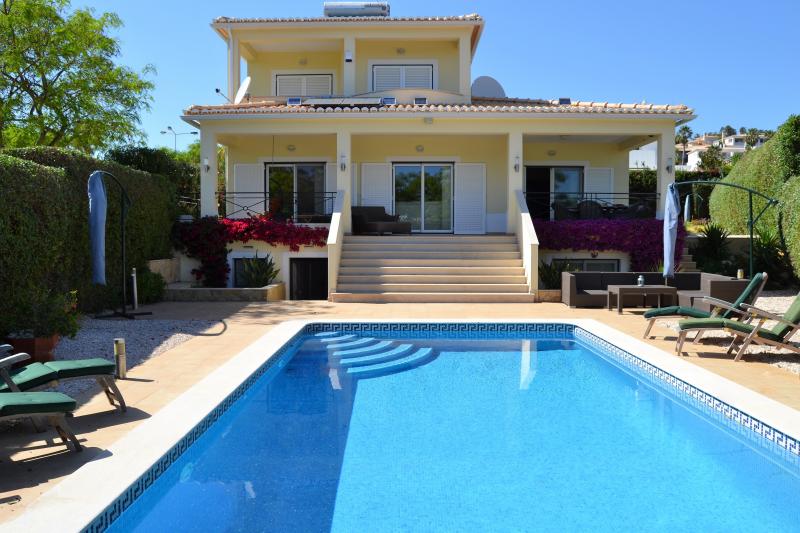 Beautiful spacious property with 3 bedrooms and 2 bathrooms plus a 2 bedroom apartment on the pool level.
Villa Lena is a beautiful spacious property with 5 bedrooms in the Albardeira area of Lagos, walking distance to the beach (10-15mins) or the marina (15-20mins).

Built over three levels, the main living area and kitchen are on the entry level along with a double bedroom and a shower-room. Upstairs on the first floor is a double bedroom, a twin bedroom, and a family bathroom with both a bath and shower cubicle. On the lower level is a second living room and kitchen, 2 more bedrooms (a double and a twin) and a shower-room.

The outdoor area is very private with mature, well-kept gardens, lots of lounging and seating areas to relax in the sun or shade. The swimming pool is in the sun virtually all day. Out from the main kitchen, there is a built-in charcoal BBQ and a gas BBQ.

There is air conditioning throughout the property, International TV channels via AppleTV, & free WiFi installed.

If only 3 bedrooms are required, the main part of the house only can be hired with a reduction in price of 15%.


From:
€1,400/week
RATES:
Low Season: €1,400/week
Mid Season: €1,500/week
High Season: €2,000/week
Peak Season: €2,700/week
Titular da Exploração do Estabelecimento:
Thomas Boberg
Nº Licença:
43204/AL
GPS (decimal degrees):
37.118805, -8.664356
GPS (dms):
+37º 7' 7.698'', -8º 39' 51.6816''
ENQUIRE NOW
BOOKING REQUEST
PROPERTY MAP
PROPERTY FEATURES:
Air Conditioning
Balcony
BBQ
Guest Apartment
Suitable for Children
Swimming Pool: Private, Heated
Hairdryer
Terrace
Car Recommended
Tumble Dryer
Iron & Ironing Board
View: Garden
Microwave
Coffee Maker
Washing Machine
Dishwasher
WiFi Internet Access
Entertainment: Dvd Player, International Tv Channels, Uk Tv Channels
Parking: Off Street Parking
Availability
August 2019
S
M
T
W
T
F
S

1

2

3

4

5

6

7

8

9

10

11

12

13

14

15

16

17

18

19

20

21

22
23
24
25
26
27

28

29

30

31
September 2019
S
M
T
W
T
F
S

1

2

3

4

5

6

7

8

9

10

11

12
13
14
15
16
17
18
19

20

21

22

23

24

25

26

27

28
29
30
October 2019
S
M
T
W
T
F
S
1
2
3
4
5
6
7
8
9
10
11
12
13
14
15
16
17
18
19
20
21
22
23
24
25
26
27
28
29
30
31
November 2019
S
M
T
W
T
F
S
1
2
3
4
5
6
7
8
9
10
11
12
13
14
15
16
17
18
19
20
21
22
23
24
25
26
27
28
29

30
December 2019
S
M
T
W
T
F
S

1

2

3

4

5

6

7

8

9

10

11

12

13

14

15

16

17

18

19

20

21

22

23

24

25

26

27

28

29

30

31
January 2020
S
M
T
W
T
F
S

1

2

3

4

5

6

7

8

9

10

11

12

13

14

15

16

17

18

19

20

21

22

23

24

25

26

27

28

29

30

31
February 2020
S
M
T
W
T
F
S

1

2

3

4

5

6

7

8

9

10

11

12

13

14

15

16

17

18

19

20

21

22

23

24

25

26

27

28

29
March 2020
S
M
T
W
T
F
S

1

2

3

4

5

6

7

8

9

10

11

12

13

14

15

16

17

18

19

20

21

22

23

24

25

26

27

28

29

30

31
April 2020
S
M
T
W
T
F
S

1

2

3

4

5

6

7

8

9

10

11

12

13

14

15

16

17

18

19

20

21

22

23

24

25

26

27

28

29

30
May 2020
S
M
T
W
T
F
S

1

2

3

4

5

6

7

8

9

10

11

12

13

14

15

16

17

18

19

20

21

22

23

24

25

26

27

28

29

30

31
June 2020
S
M
T
W
T
F
S

1

2

3

4

5

6

7

8

9

10

11

12

13

14

15

16

17

18

19

20

21

22

23

24

25

26

27

28

29

30
July 2020
S
M
T
W
T
F
S

1

2

3

4

5

6

7

8

9

10

11

12

13

14

15

16

17

18

19

20

21

22

23

24

25

26

27

28

29

30

31
Enquire about this property / Booking Request