Marina Village, 2-1F (VJC-1)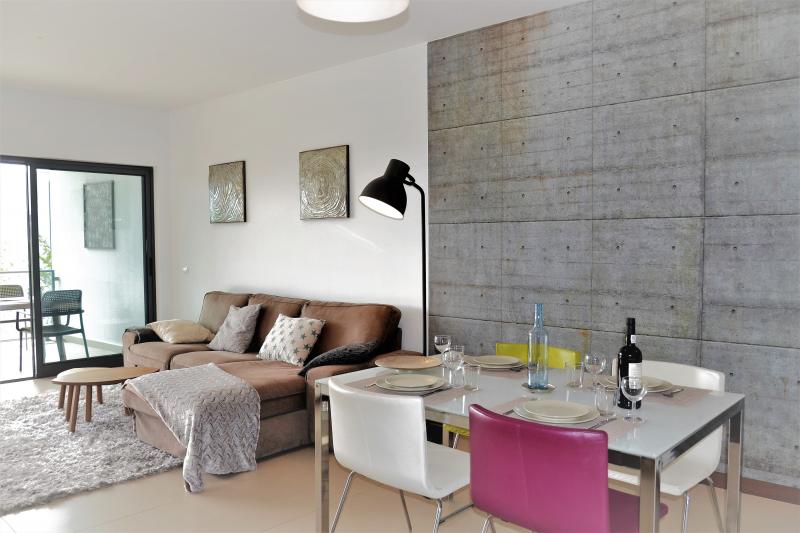 Great new apartment in the contemporary Marina Village complex with fashionable interior and south facing balcony.
Delightful decoration throughout the apartment makes this a lovely place to stay. 2 bedrooms, one of them with en-suite bathroom and a another bathroom with walk-in shower.

Fully equipped kitchen, comfortable living space, and spacious balcony overlooking the pool area (which has sun-loungers available to use).

Less than 10 mins walk to the restaurants and bars at Marina de Lagos or to supermarket, or under 20 mins walk to Meia Praia beach or Lagos town centre.

There is free on-street parking for those with cars, and it you travel by train the station is around 10-15 minutes walk away (note the hill on the way so not too much luggage!)

For short term holiday rentals, bed-linen and towels provided and changed every week along with weekly clean (do bring your own pool towels),

Long term winter lets available November to March at €900 per month for minimum of 3 months, excludes water, elec, & cleaning.
Sorry, no dogs, no BBQs, and no smoking.


From:
€600/week
RATES:
Low Season: €600/week
Mid Season: €700/week
High Season: €850/week
Peak Season: €1,000/week
Titular da Exploração do Estabelecimento:
Valérie Padox
Nº Licença:
53362/AL
GPS (decimal degrees):
37.115715, -8.673126
GPS (dms):
+37º 6' 56.574'', -8º 40' 23.2536''
ENQUIRE NOW
BOOKING REQUEST
PROPERTY MAP
PROPERTY FEATURES:
Private condominium - walled and gated
Air Conditioning
Balcony
Suitable for Children
Swimming Pool: Shared
Cable TV
Hairdryer
Iron & Ironing Board
Video Entry System
View: Pool
Walking distance to amenities
Microwave
Walking distance to resort facilities
Walking distance to the beach
Coffee Maker
Washing Machine
Dishwasher
WiFi Internet Access
Electric Shutters
Parking: On Street Parking
Availability
August 2019
S
M
T
W
T
F
S

1

2

3

4

5

6

7

8

9

10

11

12

13

14

15

16

17

18

19

20

21

22

23

24

25

26

27

28
29
30
31
September 2019
S
M
T
W
T
F
S
1
2
3
4
5
6

7

8

9

10

11

12

13

14

15
16
17

18

19

20

21

22

23

24

25

26

27

28
29
30
October 2019
S
M
T
W
T
F
S

1

2

3

4

5

6

7

8

9

10

11

12

13

14

15

16

17

18

19

20

21

22

23

24

25

26

27

28

29

30

31
November 2019
S
M
T
W
T
F
S

1

2

3

4

5

6

7

8

9

10

11

12

13

14

15

16

17

18

19

20

21

22

23

24

25

26

27

28

29

30
December 2019
S
M
T
W
T
F
S

1

2

3

4

5

6

7

8

9

10

11

12

13

14

15

16

17

18

19

20

21

22

23

24

25

26

27

28

29

30

31
January 2020
S
M
T
W
T
F
S

1

2

3

4

5

6

7

8

9

10

11

12

13

14

15

16

17

18

19

20

21

22

23

24

25

26

27

28

29

30

31
February 2020
S
M
T
W
T
F
S

1

2

3

4

5

6

7

8

9

10

11

12

13

14

15

16

17

18

19

20

21

22

23

24

25

26

27

28

29
March 2020
S
M
T
W
T
F
S

1

2

3

4

5

6

7

8

9

10

11

12

13

14

15

16

17

18

19

20

21

22

23

24

25

26

27

28

29

30

31
April 2020
S
M
T
W
T
F
S

1

2

3

4

5

6

7
8
9
10
11
12
13
14
15
16
17
18
19
20
21
22
23
24
25
26
27
28
29
30
May 2020
S
M
T
W
T
F
S
1
2
3
4
5
6
7
8
9
10
11
12
13
14
15
16
17
18
19
20
21
22
23
24
25
26
27
28
29
30
31
June 2020
S
M
T
W
T
F
S
1
2
3
4
5
6
7
8
9
10
11
12
13
14
15
16
17
18
19
20
21
22
23
24
25
26
27
28
29
30
July 2020
S
M
T
W
T
F
S
1
2
3
4
5
6
7
8
9
10
11
12
13
14
15
16
17
18
19
20
21
22
23
24
25
26
27
28
29
30
31
Enquire about this property / Booking Request