Monte das Estrelas - Luxury Retreat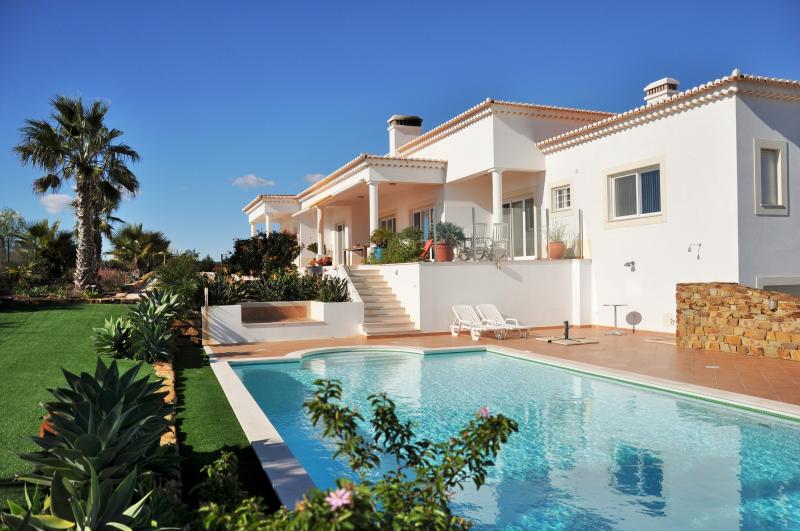 We are proud to present Monte das Estrelas, a stylish luxury villa with privacy and stunning 360º views of ocean, mountains and countryside near Lagos and Portimão, in the unspoilt Western Algarve, Portugal.
Monte das Estrelas is a luxury villa of understated elegance, sitting comfortably in its private grounds as a beautiful Algarvian style house, yet with a contemporary interior of high ceilings, open spaces and large expanses of glass offering breath-taking views across the countryside and out to the ocean.

Located in the hills between Lagos and Portimão, 45 min from Faro Airport, 15 min from great beaches and famous golf courses, the very special property affords absolute privacy. The name of the villa, which means 'Hill of the Stars' is well justified, as the night sky here is out of this world.

The living space is all open plan - the fully equipped kitchen flows well to the dining area to the sitting area as well as a TV area. The sliding doors to the master bedroom enhance the open, loft-like feeling of the architecture.

Ceiling fans, inspired by owners' years of residence in the tropics, provide a gentle cooling flow of air on warmer days - more pleasant than air conditioning. Persian carpets of quality, fine art, library, DVDs, and high speed internet, all help to complete the experience.

The house offers luxury accommodation for up to six - three bedrooms, all with en-suite bathrooms. The master bedroom is air-conditioned though not required as the hilltop position assures that the house enjoys a warm breeze on most summer days, yet the south-facing terraces are designed to give maximum protection from wind. A gas BBQ is available for guests to use.

The pool is equipped with an electric cover which, together with the solar heating, ecologically keeps the pool temperature around 28-30ºC in Summer. The 5m x 10m pool is run with a salt water system, the same used by nearly all five star hotels in the world. As a result the pool water is free of chlorine - great for children, and equally great for adults, and the roman steps at the end afford easy and safe entry.


From:
€2,050/week
SPECIAL OFFERS:
20% discount on bookings from 22nd Aug 19 to 31st Aug 19
RATES:
Low Season: €2,050/week
Mid Season: €2,050/week
High Season: €2,250/week
Peak Season: €2,800/week
Titular da Exploração do Estabelecimento:
Everdina Ten Hoopen
Nº Licença:
23507/AL
GPS (decimal degrees):
37.194202, -8.646102
GPS (dms):
+37º 11' 39.1272'', -8º 38' 45.9672''
ENQUIRE NOW
BOOKING REQUEST
PROPERTY MAP
PROPERTY FEATURES:
Fenced
Fireplace
Alarm System
Satellite TV
BBQ
Beach towels
Swimming Pool: Saltwater
Car Essential
Hairdryer
Terrace
Iron & Ironing Board
Video Entry System
View: Country, Sea
Microwave
Mosquito Screens
Coffee Maker
Washing Machine
Dishwasher
Not suitable for young children
Electric Gate
WiFi Internet Access
Electric Shutters
Entertainment: Dvd Player
Parking: Off Street Parking
Availability
August 2019
S
M
T
W
T
F
S

1

2

3

4

5

6
7
8

9

10

11

12

13

14

15

16

17

18

19

20

21

22

23

24
25
26
27
28
29
30
31
September 2019
S
M
T
W
T
F
S
1
2
3
4
5
6
7
8
9
10
11
12
13

14

15

16

17

18

19

20

21

22

23

24

25

26

27

28

29

30
October 2019
S
M
T
W
T
F
S

1

2

3

4

5

6

7

8

9

10

11

12

13

14

15

16

17

18

19

20

21

22

23

24

25

26

27

28

29

30

31
November 2019
S
M
T
W
T
F
S

1

2

3

4

5

6

7

8

9

10

11

12

13

14

15

16

17

18

19

20

21

22

23

24

25

26

27

28

29

30
December 2019
S
M
T
W
T
F
S

1

2

3

4

5

6

7

8

9

10

11

12

13

14

15

16

17

18

19

20

21

22

23

24

25

26

27

28

29

30

31
January 2020
S
M
T
W
T
F
S

1

2

3

4

5

6

7

8

9

10

11

12

13

14

15

16

17

18

19

20

21

22

23

24

25

26

27

28

29

30

31
February 2020
S
M
T
W
T
F
S

1

2

3

4

5

6

7

8

9

10

11

12

13

14

15

16

17

18

19

20

21

22

23

24

25

26

27

28

29
March 2020
S
M
T
W
T
F
S

1

2

3

4

5

6

7

8

9

10

11

12

13

14

15

16

17

18

19

20

21

22

23

24

25

26

27

28

29

30

31
April 2020
S
M
T
W
T
F
S

1

2

3

4

5

6

7

8

9

10

11

12

13

14

15

16

17

18

19

20

21

22

23

24

25

26

27

28

29

30
May 2020
S
M
T
W
T
F
S

1

2

3

4

5

6

7

8

9

10

11

12

13

14

15

16

17

18

19

20

21

22

23

24

25

26

27

28

29

30

31
June 2020
S
M
T
W
T
F
S

1

2

3

4

5

6

7

8

9

10

11

12

13

14

15

16

17

18

19

20

21

22

23

24

25

26

27

28

29

30
July 2020
S
M
T
W
T
F
S

1

2

3

4

5

6
7
8
9
10
11
12
13
14
15
16
17
18
19
20
21
22
23
24
25
26
27
28
29
30
31
Enquire about this property / Booking Request