Marina Village 1 bedroom sea view (RG-3C)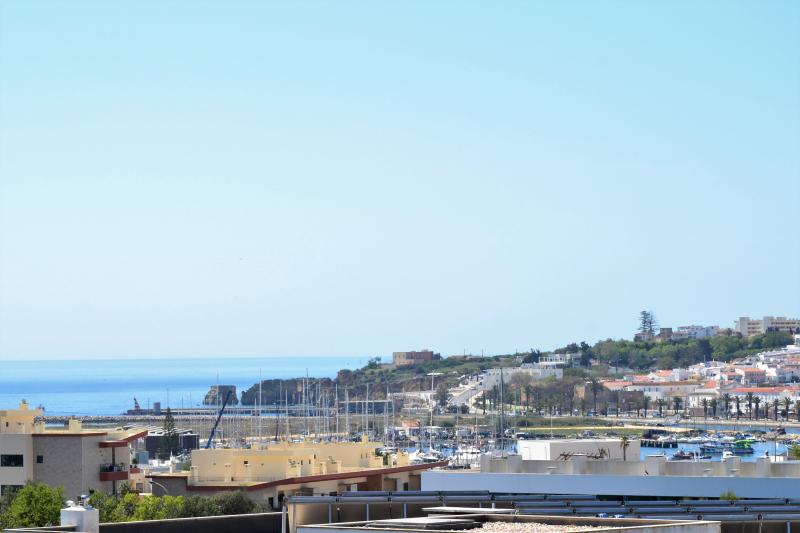 Sophisticated and spacious apartment, perfect base for a couple to enjoy Lagos, with views out to sea and a great city-scape view at night.
Set in the modern high spec Marina Village complex on the 3rd floor, this apartment comprises of one double bedroom, a bathroom and a shower-room, a living-dining room, and a fully equipped kitchen.

A highlight of the property is the view from its elevated position over the rooftops which takes in the old town, marina, and sea.

The apartment is equipped with WiFi, cable TV, air conditioning, and includes a washing machine and dishwasher in the kitchen.

Guests have access to the gardens and shared pool, which has sun-loungers around.

Free parking is available on the street outside the apartment.

Less than 10 mins walk to the restaurants and bars at Marina de Lagos or to supermarket, or under 20 mins walk to Meia Praia beach or Lagos town centre.


From:
€600/week
RATES:
Low Season: €600/week
Mid Season: €650/week
High Season: €700/week
Peak Season: €800/week
Titular da Exploração do Estabelecimento:
Richard Grahne
Nº Licença:
94642/AL
GPS (decimal degrees):
37.115620, -8.672660
GPS (dms):
+37º 6' 56.232'', -8º 40' 21.576''
ENQUIRE NOW
BOOKING REQUEST
PROPERTY MAP
PROPERTY FEATURES:
Air Conditioning
Balcony
Beach towels
Swimming Pool: Shared
Cable TV
Hairdryer
Iron & Ironing Board
View: Sea, Pool
Walking distance to amenities
Microwave
Walking distance to the beach
Coffee Maker
Washing Machine
Dishwasher
WiFi Internet Access
Electric Shutters
Parking: On Street Parking
Availability
August 2019
S
M
T
W
T
F
S

1

2

3

4

5

6

7
8
9
10
11
12
13

14

15

16

17

18

19

20

21

22

23

24
25
26
27
28
29
30
31
September 2019
S
M
T
W
T
F
S
1
2
3

4

5

6

7

8

9

10

11

12

13

14
15
16
17

18

19

20

21

22

23

24

25
26

27

28

29

30
October 2019
S
M
T
W
T
F
S

1

2

3

4

5

6

7

8

9

10

11

12

13

14

15

16

17

18

19

20

21

22

23

24

25

26

27

28

29

30

31
November 2019
S
M
T
W
T
F
S

1

2

3

4

5

6

7

8

9

10

11

12

13

14

15

16

17

18

19

20

21

22

23

24

25

26

27

28

29

30
December 2019
S
M
T
W
T
F
S

1

2

3

4

5

6

7

8

9

10

11

12

13

14

15

16

17

18

19

20

21

22

23

24

25

26

27

28

29

30

31
January 2020
S
M
T
W
T
F
S

1

2

3

4

5

6

7

8

9

10

11

12

13

14

15

16

17

18

19

20

21

22

23

24

25

26

27

28

29

30

31
February 2020
S
M
T
W
T
F
S

1

2

3

4

5

6

7

8

9

10

11

12

13

14

15

16

17

18

19

20

21

22

23

24

25

26

27

28

29
March 2020
S
M
T
W
T
F
S

1

2

3

4

5

6

7

8

9

10

11

12

13

14

15

16

17

18

19

20

21

22

23

24

25

26

27

28

29

30

31
April 2020
S
M
T
W
T
F
S

1

2

3

4

5

6

7

8

9

10

11

12

13

14

15

16

17

18

19

20

21

22

23

24

25

26

27

28

29

30
May 2020
S
M
T
W
T
F
S

1

2

3

4

5

6

7

8

9

10

11

12

13

14

15

16

17

18

19

20

21

22

23

24

25

26

27

28

29

30

31
June 2020
S
M
T
W
T
F
S

1

2

3

4

5

6

7

8

9

10

11

12

13

14

15

16

17

18

19

20

21

22

23

24

25

26

27

28

29

30
July 2020
S
M
T
W
T
F
S

1

2

3

4

5

6

7

8

9

10

11

12

13

14

15

16

17

18

19

20

21

22

23

24

25

26

27

28

29

30

31
Enquire about this property / Booking Request