Ancora 1st Floor Apartment (JPD-18-1B)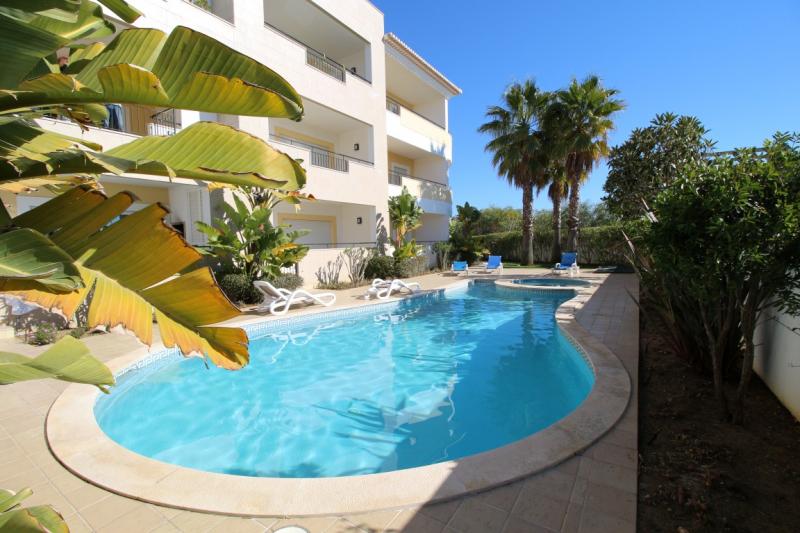 Superb 2 bedroom apartment bordering the site of the Cascade Resort, and conveniently set within walking distance to Lagos historic town centre and the beach.
Set in a block of just 9 apartments sharing a communal pool and Jacuzzi, the apartment has a south-west facing aspect benefiting from sun all afternoon.

The apartment has a large open plan lounge, dining area and fully fitted kitchen equipped with all appliances and a breakfast bar. The master bedroom has a double bed (150cm) and ensuite bathroom and the second bedroom has 2 singles and the use of the family shower-room. Both bedrooms have direct access to one of the balconies.

Further features include fully air-conditioning, video entry system, WiFi, cable TV, and secure underground parking.

Available for holidays and long term winter lets (November to March).


From:
€500/week
RATES:
Low Season: €500/week
Mid Season: €550/week
High Season: €700/week
Peak Season: €1,000/week
Titular da Exploração do Estabelecimento:
Jean Paul DECOUT
Nº Licença:
77517/AL
GPS (decimal degrees):
37.089057, -8.678250
GPS (dms):
+37º 5' 20.6052'', -8º 40' 41.7''
ENQUIRE NOW
BOOKING REQUEST
PROPERTY MAP
PROPERTY FEATURES:
Air Conditioning
Roof Terrace
Balcony
Solar Panels
BBQ
Beach towels
Swimming Pool: Shared
Cable TV
Hairdryer
Car Recommended
Central sound system
Iron & Ironing Board
Video Entry System
Central Vacuum
Microwave
Coffee Maker
Washing Machine
WiFi Internet Access
Electric Shutters
Entertainment: Dvd Player
Parking: On Street Parking
Availability
August 2019
S
M
T
W
T
F
S

1

2

3

4

5

6

7

8

9

10

11

12

13

14

15

16

17

18

19

20

21

22

23

24

25

26

27

28

29
30
31
September 2019
S
M
T
W
T
F
S
1
2
3
4
5
6
7
8
9
10
11
12
13

14

15

16

17

18

19

20

21

22

23

24

25

26

27

28

29

30
October 2019
S
M
T
W
T
F
S

1

2

3

4

5

6

7

8

9

10

11

12

13

14

15

16

17

18

19

20

21

22

23

24

25

26

27

28

29

30

31
November 2019
S
M
T
W
T
F
S

1

2

3

4

5

6

7

8

9
10
11
12
13
14
15
16
17
18
19
20
21
22
23
24
25
26
27
28
29
30
December 2019
S
M
T
W
T
F
S
1
2
3
4
5
6
7
8
9
10
11
12
13
14
15
16
17
18
19
20
21
22
23
24
25
26
27
28
29
30
31
January 2020
S
M
T
W
T
F
S
1
2
3
4
5
6
7
8
9
10
11
12
13
14
15
16
17
18
19
20
21
22
23
24
25
26
27
28
29
30
31
February 2020
S
M
T
W
T
F
S
1
2
3
4
5
6
7
8
9
10
11
12
13
14
15
16
17
18
19
20
21
22
23
24
25
26
27
28
29
March 2020
S
M
T
W
T
F
S
1
2
3
4
5
6
7
8
9
10
11
12
13
14
15
16
17
18
19
20
21
22
23
24
25
26
27
28
29
30
31
April 2020
S
M
T
W
T
F
S
1
2
3
4
5
6
7
8
9
10
11
12
13
14
15
16
17
18
19
20
21
22
23
24
25
26
27
28
29
30
May 2020
S
M
T
W
T
F
S
1
2
3
4
5
6
7
8
9
10
11
12
13
14
15
16
17
18
19
20
21
22
23
24
25
26
27
28
29
30
31
June 2020
S
M
T
W
T
F
S
1
2
3
4
5
6
7
8
9
10
11
12
13
14
15
16
17
18
19
20
21
22
23
24
25
26
27
28
29
30
July 2020
S
M
T
W
T
F
S
1
2
3
4
5
6
7
8
9
10
11
12
13
14
15
16
17
18
19
20
21
22
23
24
25
26
27
28
29
30
31
Enquire about this property / Booking Request