Casa da Carpinteira, Lagos Old Town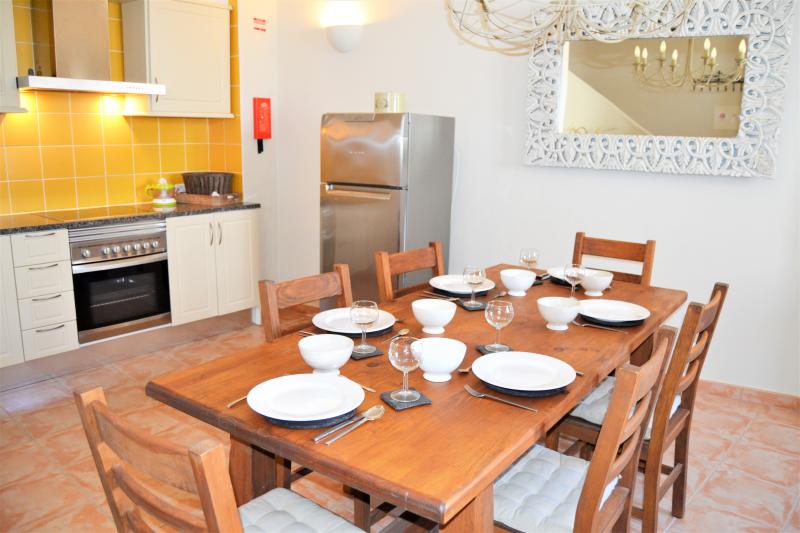 Beautifully renovated traditional townhouse situated on a quiet street in the historic old town of Lagos.
If exploring the local area is your favourite past time on holiday, then look no further; this house is the perfect base, never more than a couple of minutes' walk from the beaches, shops and restaurants.

Located on a very peaceful street in the historic old town, this renovated carpenter's workshop has been transformed into a beautiful holiday escape, with two bedrooms and two bathrooms plus a further bedroom suited for two children.

The master bedroom has air-conditioning and an en-suite with it's own private terrace overlooking the town, perfect for enjoying a drink before going out for dinner in one of the many quality restaurants Lagos has to offer.

Downstairs is a spacious living and dining area with a modern fitted kitchen and a comfortable sofa for relaxing after a busy day at the beach or sightseeing.

This house would be great for two couples holidaying together, or a family with upto four children.




From:
€700/week
RATES:
Low Season: €700/week
Mid Season: €800/week
High Season: €900/week
Peak Season: €1,250/week
Nº Licença Alojamento:
5661/AL
GPS (decimal degrees):
37.100716, -8.674585
GPS (dms):
+37º 6' 2.5776'', -8º 40' 28.506''
ENQUIRE NOW
BOOKING REQUEST
PROPERTY MAP
PROPERTY FEATURES:
Construction Area: 95m2
Satellite TV
Balcony
Cable TV
Terrace
Hairdryer
Iron & Ironing Board
Walking distance to amenities
Close to Beach
Close to Town
Coffee Maker
Microwave
Walking distance to the beach
Washing Machine
WiFi Internet Access
Entertainment: Dvd Player, International Tv Channels
Equipped Kitchen
Availability
April 2023
S
M
T
W
T
F
S
1
2
3
4
5
6
7
8
9
10
11
12
13
14
15
16
17
18
19
20
21
22
23
24
25
26
27
28
29
30
May 2023
S
M
T
W
T
F
S
1
2
3
4
5
6
7
8
9
10
11
12
13
14
15
16
17
18
19

20

21

22

23

24

25

26

27

28

29

30

31
June 2023
S
M
T
W
T
F
S

1

2

3

4

5

6

7

8

9

10
11
12
13
14
15
16
17
18
19
20
21
22
23
24
25
26
27
28
29
30
July 2023
S
M
T
W
T
F
S
1
2
3
4
5
6
7
8
9
10
11
12
13
14
15
16
17
18
19
20
21
22
23
24
25
26
27
28
29
30
31
August 2023
S
M
T
W
T
F
S
1
2
3
4
5
6
7
8
9
10
11
12
13
14
15
16
17
18
19
20
21
22
23
24
25
26
27
28
29
30
31
September 2023
S
M
T
W
T
F
S
1
2
3
4
5
6
7
8
9
10
11
12
13
14
15
16
17
18
19
20
21
22
23
24
25
26
27
28
29
30
October 2023
S
M
T
W
T
F
S

1

2

3

4

5

6

7

8

9

10

11

12

13

14

15

16

17

18

19

20

21
22
23
24
25
26
27
28
29
30
31
November 2023
S
M
T
W
T
F
S
1
2
3
4
5
6
7
8
9
10
11
12
13
14
15
16
17
18
19
20
21
22
23
24
25
26
27
28
29
30
December 2023
S
M
T
W
T
F
S
1
2
3
4
5
6
7
8
9
10
11
12
13
14
15
16
17
18
19
20
21
22
23
24
25
26
27
28
29
30
31
January 2024
S
M
T
W
T
F
S
1
2
3
4
5
6
7
8
9
10
11
12
13
14
15
16
17
18
19
20
21
22
23
24
25
26
27
28
29
30
31
February 2024
S
M
T
W
T
F
S
1
2
3
4
5
6
7
8
9
10
11
12
13
14
15
16
17
18
19
20
21
22
23
24
25
26
27
28
29
March 2024
S
M
T
W
T
F
S
1
2
3
4
5
6
7
8
9
10
11
12
13
14
15
16
17
18
19
20
21
22
23
24
25
26
27
28
29
30
31
Enquire about this property / Booking Request