The View, Salema - Elegant 2 double bedroom w/ sea view (GF40)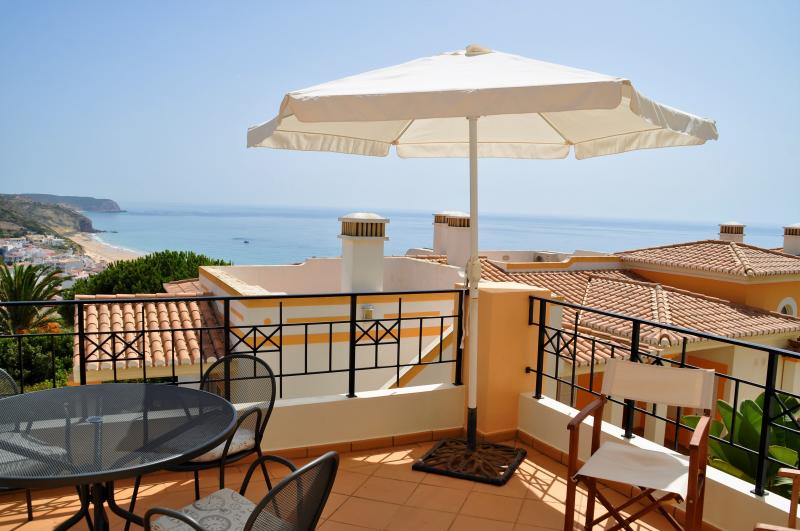 Wonderful 2 bedroom townhouse on the exclusive resort, The View - Salema. 2 double bedrooms and panoramic sea views.
Sitting in a prime position at the top of the resort, this 2 bedroom townhouse has been styled elegantly and maintained to an excellent standard.

The open plan living-dining room opens onto a dining balcony with glorious sea views of the bay although a view of the sea hits you the moment you walk through the entrance door. Also on this level you will find the well-equipped kitchen and and cloakroom. The roof terrace has 2 sun-loungers from which to enjoy panoramic sea views.

On the lower level are 2 double ensuite bedrooms, one with shower and one with bath and shower over. These open onto a relaxing patio area.

The house is equipped with air conditioning for cooling or heating, and WiFi internet.

The shared pool is only a few steps from the house.




From:
€700/week
RATES:
Low Season: €700/week
Mid Season: €800/week
High Season: €1,100/week
Peak Season: €1,500/week
Nº Licença Alojamento:
1130
GPS (decimal degrees):
37.066110, -8.830183
GPS (dms):
+37º 3' 57.996'', -8º 49' 48.6588''
ENQUIRE NOW
BOOKING REQUEST
PROPERTY MAP
PROPERTY FEATURES:
Construction Area: 100m2
Air Conditioning
Roof Terrace
Safe
Satellite TV
Balcony
Golf - 30% off Green Fees at Parque da Floresta
BBQ
Golf nearby
Beach towels
Suitable for Children
Swimming Pool: Shared, Childrens
Terrace
Car Recommended
Hairdryer
Iron & Ironing Board
View: Sea
Walking distance to amenities
Close to Beach
Close to Town
Coffee Maker
Microwave
Walking distance to the beach
Dishwasher
Washing Machine
WiFi Internet Access
Entertainment: Dvd Player, International Tv Channels, Uk Tv Channels
Parking: Off Street Parking
Availability
June 2022
S
M
T
W
T
F
S

1

2

3

4

5

6

7

8

9

10

11

12

13

14

15

16

17

18

19

20

21

22

23
24
25
26
27
28

29

30
July 2022
S
M
T
W
T
F
S

1

2

3

4

5

6

7

8

9

10

11

12

13

14
15
16
17
18
19
20
21
22

23

24

25

26

27

28

29

30

31
August 2022
S
M
T
W
T
F
S

1

2

3

4

5

6

7

8

9

10

11

12

13

14

15

16

17

18

19

20

21
22
23
24
25
26
27
28
29
30
31
September 2022
S
M
T
W
T
F
S
1
2

3

4

5

6

7

8

9

10

11

12

13

14

15

16

17

18

19

20

21

22

23

24

25

26

27

28

29

30
October 2022
S
M
T
W
T
F
S

1

2

3

4

5

6

7

8

9

10

11

12

13

14

15

16

17

18

19

20

21

22

23

24

25

26

27

28

29

30

31
November 2022
S
M
T
W
T
F
S

1

2

3

4

5

6

7

8

9

10

11

12

13

14

15

16

17

18

19

20

21

22

23

24

25

26

27

28

29

30
December 2022
S
M
T
W
T
F
S

1

2

3

4

5

6

7

8

9

10

11

12

13

14

15

16

17

18

19

20

21

22

23

24

25

26

27

28

29

30

31
January 2023
S
M
T
W
T
F
S

1

2

3

4

5

6

7

8

9

10

11

12

13

14

15

16

17

18

19

20

21

22

23

24

25

26

27

28

29

30

31
February 2023
S
M
T
W
T
F
S

1

2

3

4

5

6

7

8

9

10

11

12

13

14

15

16

17

18

19

20

21

22

23

24

25

26

27

28
March 2023
S
M
T
W
T
F
S

1

2

3

4

5

6

7

8

9

10

11

12

13

14

15

16

17

18

19

20

21

22

23

24

25

26

27

28

29

30

31
April 2023
S
M
T
W
T
F
S

1

2

3

4

5

6

7

8

9

10

11

12

13

14

15

16

17

18

19

20

21

22

23

24

25

26

27

28

29

30
May 2023
S
M
T
W
T
F
S

1

2
3
4
5
6
7
8
9
10
11
12
13
14
15
16
17
18
19
20
21
22
23
24
25
26
27
28
29
30
31
Enquire about this property / Booking Request