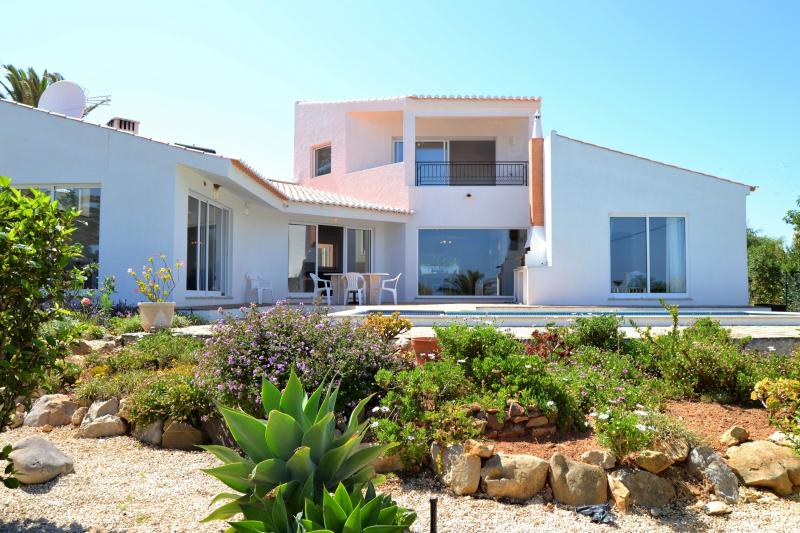 Escape to Salema and find calm and relaxation in this beautiful, natural setting. This private detached villa has 3 bedrooms and its own pool and 10 minutes' walk to the beach.
Nestled amongst other private villas with mature gardens, the villa has a sunny outlook and lovely views out to sea.

Great for families, the open living space and all bedrooms are on the ground floor. The master bedroom leads out onto the pool terrace and has an en-suite shower-room. The 2 back bedrooms, one with 2 single beds and one with bunk beds, share a bathroom with bath and shower over.

The kitchen is fully equipped and there is cable TV and WiFi at the villa.

There is a built-in BBQ, outside dining area, and sun-loungers around the pool.

Note: the upstairs room (4th bedroom) is closed off during rentals.


From:
€1,100/week
RATES:
Low Season: €1,100/week
Mid Season: €1,300/week
High Season: €1,500/week
Peak Season: €1,800/week
Nº Licença Alojamento:
41843/AL
GPS (decimal degrees):
37.068132, -8.828672
GPS (dms):
+37º 4' 5.2752'', -8º 49' 43.2192''
ENQUIRE NOW
BOOKING REQUEST
PROPERTY MAP
PROPERTY FEATURES:
Construction Area: 262m2
Private Patio
Fireplace
Safe
Solar Panels
BBQ
Golf nearby
Beach towels
Swimming Pool: Private
Cable TV
Car Recommended
Hairdryer
Iron & Ironing Board
View: Sea
Close to Beach
Close to Town
Coffee Maker
Microwave
Walking distance to the beach
Dishwasher
Washing Machine
WiFi Internet Access
Entertainment: Bluetooth Speaker, International Tv Channels, Portuguese Tv Channels, Appletv Available For Account Holders
Parking: Off Street Parking
Availability
June 2022
S
M
T
W
T
F
S

1

2

3

4

5

6

7

8

9

10

11

12

13

14

15

16

17

18

19

20

21

22

23

24

25

26

27

28

29

30
July 2022
S
M
T
W
T
F
S

1

2

3

4

5

6

7

8

9

10

11

12

13

14

15

16

17

18

19

20

21

22

23

24

25

26

27
28

29

30

31
August 2022
S
M
T
W
T
F
S

1

2

3

4

5

6

7

8

9

10

11

12

13

14

15

16

17

18

19

20

21

22

23

24

25

26

27

28

29

30

31
September 2022
S
M
T
W
T
F
S

1

2

3
4
5
6
7
8
9
10

11

12

13

14

15

16

17

18

19
20
21
22
23
24
25
26

27

28

29

30
October 2022
S
M
T
W
T
F
S

1

2

3

4

5

6

7

8

9

10

11

12

13

14

15

16

17

18
19
20
21
22
23
24
25
26
27
28

29

30

31
November 2022
S
M
T
W
T
F
S

1

2

3

4

5

6
7
8
9
10
11
12
13
14
15
16
17
18
19
20
21
22
23
24
25
26
27
28
29
30
December 2022
S
M
T
W
T
F
S
1
2
3
4
5
6
7
8
9
10
11
12
13
14
15
16
17
18
19
20
21
22
23
24
25
26
27
28
29
30
31
January 2023
S
M
T
W
T
F
S
1
2
3
4
5
6
7
8
9
10
11
12
13
14
15
16
17
18
19
20
21
22
23
24
25
26
27
28
29
30
31
February 2023
S
M
T
W
T
F
S
1
2
3
4
5
6
7
8
9
10
11
12
13
14
15
16
17
18
19
20
21
22
23
24
25
26
27
28
March 2023
S
M
T
W
T
F
S
1
2
3
4
5
6
7
8
9
10
11
12
13
14
15
16
17
18
19
20
21
22
23
24
25
26
27
28
29
30
31
April 2023
S
M
T
W
T
F
S
1
2
3
4
5
6
7
8
9
10
11
12
13
14
15
16
17
18
19
20
21
22
23
24
25
26
27
28
29
30
May 2023
S
M
T
W
T
F
S
1
2
3
4
5
6
7
8
9
10
11
12
13
14
15
16
17
18
19
20
21
22
23
24
25
26
27
28
29
30
31
Enquire about this property / Booking Request