Casa do Medronheiro, Albardeira, Lagos (MF45)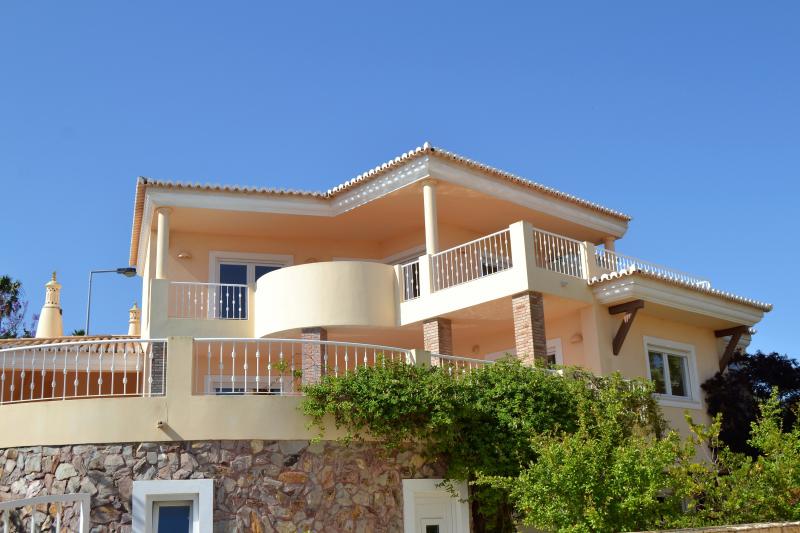 Wonderful light and spacious villa, furnished to a very high standard, within walking distance to the beach.
So much more than you expect from a holiday home, this villa is new to the rental market, in fantastic condition and will be a delight to stay in. The open living space is light and airy, the kitchen is excellent and is supplemented by a great outdoor dining area with large BBQ next to the private swimming pool.

3 double bedrooms, 1 on the ground floor and 2 upstairs, all of which are en-suite and a games room in the basement with large pool table. Throughout the villa are lovely details which make it very special.

As you would expect of a property of this calibre, there is WiFi and a gated entrance.

It's an airy house but fans are also supplied for cooling in case you have some hot nights.

A gate from the side of the property opens to a path which leads to Meia Praia beach in 15 minutes. Lagos Marina with its bars restaurants is 20 mins walk away or less than 5 mins drive.


From:
€1,200/week
RATES:
Low Season: €1,200/week
Mid Season: €1,600/week
High Season: €1,800/week
Peak Season: €2,000/week
Titular da Exploração do Estabelecimento:
Manuel Frutuoso da Costa
Nº Licença:
40347/AL
GPS (decimal degrees):
37.119701, -8.663402
GPS (dms):
+37º 7' 10.9236'', -8º 39' 48.2472''
ENQUIRE NOW
BOOKING REQUEST
PROPERTY MAP
PROPERTY FEATURES:
Alarm System
Games Room
Balcony
BBQ
Beach towels
Swimming Pool: Private
Cable TV
Car Essential
Hairdryer
Terrace
Iron & Ironing Board
Video Entry System
Walking distance to amenities
Close to Beach
Close to Town
Walking distance to the beach
Coffee Maker
Washing Machine
Dishwasher
Electric Gate
WiFi Internet Access
Electric Shutters
Entertainment: Dvd Player, Dvd Collection, International Tv Channels
Parking: Private
Availability
March 2021
S
M
T
W
T
F
S
1
2
3
4
5
6
7
8
9
10
11
12
13
14
15
16
17
18
19
20
21
22
23
24
25
26
27
28
29
30
31
April 2021
S
M
T
W
T
F
S
1
2
3
4
5
6
7
8
9
10
11
12
13
14
15
16
17
18
19
20
21
22
23
24
25
26
27
28
29
30
May 2021
S
M
T
W
T
F
S
1
2
3
4
5
6
7
8
9
10
11
12
13
14
15
16
17
18
19
20
21
22
23
24
25
26
27
28
29
30
31
June 2021
S
M
T
W
T
F
S
1
2
3
4
5
6
7
8
9
10
11
12
13
14
15
16
17
18
19
20
21
22
23
24
25
26
27
28
29
30
July 2021
S
M
T
W
T
F
S
1
2
3
4
5
6
7
8
9
10
11
12
13
14
15
16
17
18
19
20
21
22
23
24
25
26
27
28
29
30
31
August 2021
S
M
T
W
T
F
S
1
2
3
4
5

6

7

8

9

10

11

12

13

14
15
16
17
18
19
20
21
22
23
24
25
26
27
28
29
30
31
September 2021
S
M
T
W
T
F
S
1
2
3
4
5
6
7
8
9
10
11
12
13
14
15
16
17
18
19
20
21
22
23
24
25
26
27
28
29
30
October 2021
S
M
T
W
T
F
S
1
2
3
4
5
6
7
8
9
10
11
12
13
14
15
16
17
18
19
20
21
22
23
24
25
26
27
28
29
30
31
November 2021
S
M
T
W
T
F
S
1
2
3
4
5
6
7
8
9
10
11
12
13
14
15
16
17
18
19
20
21
22
23
24
25
26
27
28
29
30
December 2021
S
M
T
W
T
F
S
1
2
3
4
5
6
7
8
9
10
11
12
13
14
15
16
17
18
19
20
21
22
23
24
25
26
27
28
29
30
31
January 2022
S
M
T
W
T
F
S

1

2

3

4

5

6

7

8

9

10

11

12

13

14

15

16

17

18

19

20

21

22

23

24

25

26

27

28

29

30

31
February 2022
S
M
T
W
T
F
S

1

2

3

4

5

6

7

8

9

10

11

12

13

14

15

16

17

18

19

20

21

22

23

24

25

26

27

28
Enquire about this property / Booking Request