Quinta da Fortaleza - JG91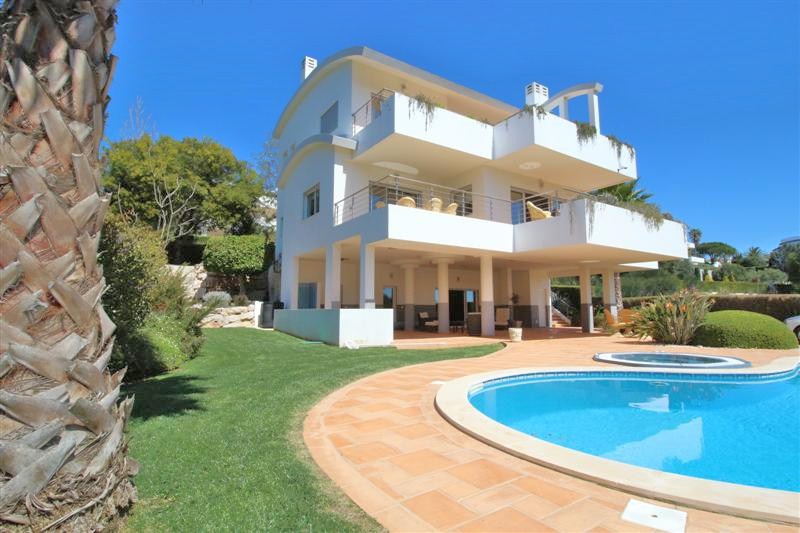 Amazing contemporary 4 bedroom villa with garden and swimming pool, close to the beach!
A very comfortable and modern-style villa surrounded by a lovely garden and a heated swimming pool plus a Jacuzzi on the main front terrace. The property is fenced with a gate and private parking.

The space is fantastic, with all rooms leading to generous south-facing terraces, providing all-day sunshine and maximising the amazing views.

The accommodation includes an entrance hall, a spacious lounge and dining area with feature fireplace and a modern fully fitted kitchen and a utility/laundry room, a twin bedroom with en-suite bathroom, and a guest toilet.

The first floor offers 2 large bedrooms, 1 double and 1 twin, both with en-suite bathrooms, both flowing onto a gorgeous south facing terrace. The stairway and first floor hallway feature a glass ceiling which provides a wonderful flow of light throughout the villa.

The lower level provides the 4th bedroom with double bed and sofa, and en-suite bathroom, and has access to a lovely large terrace, the pool. On this terrace there is an outdoor shower and areas for sun and shade.

Further features include a built-in BBQ outside the kitchen, heating and cooling conditioning system throughout the villa, electric shutters, WiFi, and IPTV.

Pool heating can be arranged between May and September for €200/week and Jacuzzi heating for €150 per week.


From:
€1,300/week
RATES:
Low Season: €1,300/week
Mid Season: €1,500/week
High Season: €2,000/week
Peak Season: €2,800/week
Titular da Exploração do Estabelecimento:
Judith Anne Goodge
Nº Licença:
9357/AL
GPS (decimal degrees):
37.070179, -8.802802
GPS (dms):
+37º 4' 12.6444'', -8º 48' 10.0872''
ENQUIRE NOW
BOOKING REQUEST
PROPERTY MAP
PROPERTY FEATURES:
Fireplace
Air Conditioning
Safe
Balcony
Golf nearby
Storage Facility
BBQ
Swimming Pool: Private
Terrace
Cable TV
Hairdryer
Car Essential
Iron & Ironing Board
View: Country, Sea
Microwave
Walking distance to the beach
Washing Machine
Coffee Maker
Dishwasher
Optional Jacuzzi (€150 per week)
WiFi Internet Access
Optional pool heating (€200 per week)
Electric Shutters
Parking: Private
Availability
March 2021
S
M
T
W
T
F
S

1

2

3

4

5

6

7

8

9

10

11

12

13

14

15

16

17

18

19

20

21

22

23

24

25

26

27

28

29

30

31
April 2021
S
M
T
W
T
F
S

1

2

3

4

5

6

7

8

9
10
11
12
13
14
15
16
17
18
19
20
21
22
23
24
25
26
27
28
29
30
May 2021
S
M
T
W
T
F
S
1
2
3
4
5
6
7
8
9
10
11
12
13
14
15
16
17
18
19
20
21
22
23
24
25
26
27
28
29
30
31
June 2021
S
M
T
W
T
F
S
1
2
3
4
5
6
7
8
9
10
11
12
13
14
15
16
17
18
19
20
21
22
23
24
25
26
27
28
29
30
July 2021
S
M
T
W
T
F
S
1
2
3
4
5
6
7
8
9
10
11
12
13
14
15
16
17
18
19
20
21
22
23
24
25
26
27
28
29
30
31
August 2021
S
M
T
W
T
F
S
1
2
3
4
5
6
7
8
9
10
11
12
13
14
15
16
17
18
19
20
21
22
23
24
25
26
27
28
29
30
31
September 2021
S
M
T
W
T
F
S
1
2
3
4
5
6
7
8
9
10
11
12
13
14
15
16
17
18
19
20
21
22
23
24
25
26
27
28
29
30
October 2021
S
M
T
W
T
F
S

1

2

3

4

5

6

7

8

9

10

11

12

13

14

15

16

17

18

19

20

21

22

23

24

25

26

27

28

29

30

31
November 2021
S
M
T
W
T
F
S

1

2

3

4

5

6

7

8

9

10

11

12

13

14

15

16

17

18

19

20

21

22

23

24

25

26

27

28

29

30
December 2021
S
M
T
W
T
F
S

1

2

3

4

5

6

7

8

9

10

11

12

13

14

15

16

17

18

19

20

21

22

23

24

25

26

27

28

29

30

31
January 2022
S
M
T
W
T
F
S

1

2
3
4
5
6
7
8
9
10
11
12
13
14
15
16
17
18
19
20
21
22
23
24
25
26
27
28
29
30
31
February 2022
S
M
T
W
T
F
S
1
2
3
4
5
6
7
8
9
10
11
12
13
14
15
16
17
18
19
20
21
22
23
24
25
26
27
28
Enquire about this property / Booking Request