Villa Tambeim, Montinhos de Luz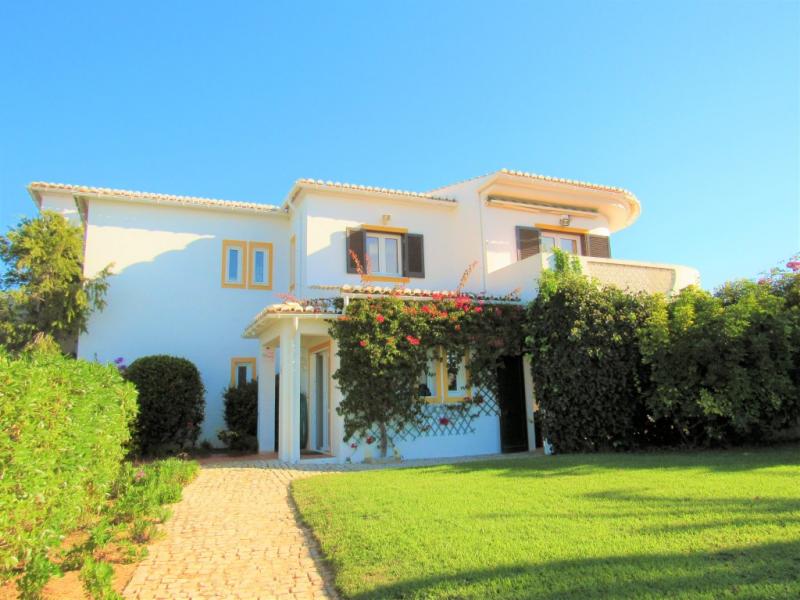 Relax in the peace and privacy of Villa Tambien, Montinhos da Luz. Sleeping up to 9 guests and having 2 living rooms, this is a great villa for getting the whole family together to recharge the batteries.
Classic Algarvian villa with lovely outdoor space; the grounds a large, the gardens mature, and the pool can be heated. Beside the pool there are sun-loungers, dining table and chairs, and a BBQ.

On the the ground floor of the property you will find the 3 main bedrooms - the master with A/C and en-suite shower-room, a double bedroom, a twin, and a family bathroom. The master and double bedroom open out onto the pool terrace. With a separate entrance is the annex which has a double bed, a sofa bed, and a shower-room.

Up on the 1st floor there is a formal lounge, the kitchen, dining and informal living room with TV. The TV receives channels from most countries, including UK, Germany, and France, and there is a DVD player with selection of DVDs. There is A/C in both living rooms. There are balconies all around the 1st Floor with a seating area and wonderful views of the ocean and countryside.

Other features include garage parking, ping pong table and WiFi.

The villa is located in a quiet cul-de-sac with super elevated views of the countryside and out to sea, and is less than 10 minutes drive to the beaches of Praia da Luz or Burgau and with various restaurants on the way. Lagos is only a 15 minute drive with its historic old town centre, busy modern marina, a range of activities and restaurants.


From:
€1,300/week
RATES:
Low Season: €1,300/week
Mid Season: €1,500/week
High Season: €1,750/week
Peak Season: €2,250/week
Titular da Exploração do Estabelecimento:
Pieter Kruger
Nº Licença:
98907/AL
GPS (decimal degrees):
37.090720, -8.753570
GPS (dms):
+37º 5' 26.592'', -8º 45' 12.852''
ENQUIRE NOW
BOOKING REQUEST
PROPERTY MAP
PROPERTY FEATURES:
Air conditioned living room
Annex
Balcony
BBQ
Swimming Pool: Private, Heated
Terrace
Cable TV
Hairdryer
Car Essential
Iron & Ironing Board
View: Country, Sea
Microwave
Washing Machine
Coffee Maker
Dishwasher
WiFi Internet Access
Optional pool heating (€200 per week)
Parking: Private Garage, Off Street Parking
Entertainment: Dvd Player, Dvd Collection, International Tv Channels
Ping Pong table
Availability
March 2021
S
M
T
W
T
F
S
1
2
3
4
5
6
7
8
9
10
11
12
13
14
15
16
17
18
19
20
21
22
23
24
25
26
27
28
29
30
31
April 2021
S
M
T
W
T
F
S
1
2
3
4
5
6
7
8
9
10
11
12
13
14
15
16
17
18
19
20
21
22
23
24
25
26
27
28
29
30
May 2021
S
M
T
W
T
F
S
1
2
3
4
5
6
7
8
9
10
11
12
13
14
15
16
17
18
19
20
21
22
23
24
25
26
27
28
29
30
31
June 2021
S
M
T
W
T
F
S
1
2
3
4
5
6
7
8
9
10
11
12
13
14
15
16
17
18
19
20
21
22
23
24
25
26
27
28
29
30
July 2021
S
M
T
W
T
F
S
1
2
3
4
5
6
7
8
9
10
11
12
13
14
15
16

17

18

19

20

21

22

23

24

25

26

27

28

29
30
31
August 2021
S
M
T
W
T
F
S
1
2
3
4
5
6

7

8

9

10

11

12

13

14

15

16

17

18

19

20

21

22
23
24
25
26
27

28

29

30

31
September 2021
S
M
T
W
T
F
S

1

2

3

4

5

6

7

8

9
10
11
12
13
14
15
16
17
18
19
20
21
22
23
24
25
26
27
28
29
30
October 2021
S
M
T
W
T
F
S
1
2
3
4
5
6
7
8
9
10
11
12
13
14
15
16
17
18
19
20
21
22
23
24
25
26
27
28
29
30
31
November 2021
S
M
T
W
T
F
S
1
2
3
4
5
6
7
8
9
10
11
12
13
14
15
16
17
18
19
20
21
22
23
24
25
26
27
28
29
30
December 2021
S
M
T
W
T
F
S
1
2
3
4
5
6
7
8
9
10
11
12
13
14
15
16
17
18
19
20
21
22
23
24
25
26
27
28
29
30
31
January 2022
S
M
T
W
T
F
S
1
2
3
4
5
6
7
8
9
10
11
12
13
14
15
16
17
18
19
20
21
22
23
24
25
26
27
28
29
30
31
February 2022
S
M
T
W
T
F
S
1
2
3
4
5
6
7
8
9
10
11
12
13
14
15
16
17
18
19
20
21
22
23
24
25
26
27
28
Enquire about this property / Booking Request