Quinta da Fortaleza 4 bedroom villa - RG70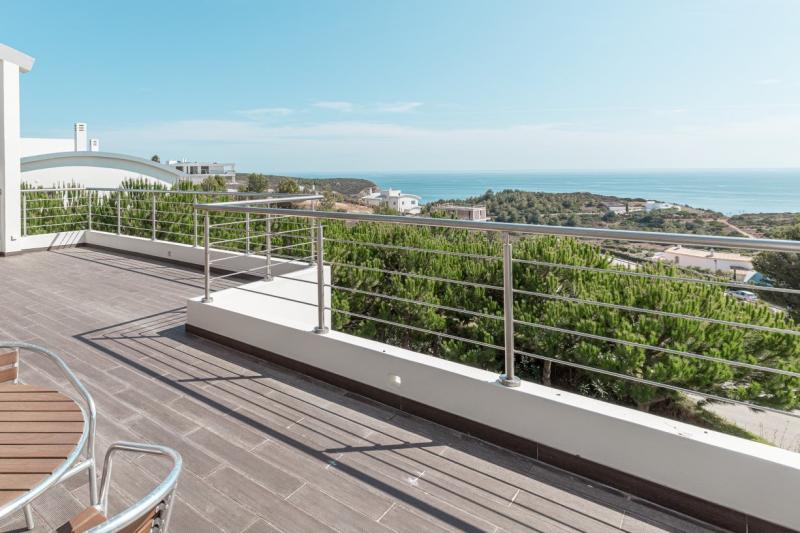 Fabulous contemporary-design villa with open sea view, 4 spacious double bedrooms, and private pool area, located within the Costa Vicentina Parque Natural close to Cabanas Velhas beach.
The villa enjoys a very private position between Burgau and Salema, gated and surrounded by trees yet with truly stunning ocean views from the upper level of the property.

The space is fantastic, with all rooms leading to generous south-facing terraces, providing all-day sunshine. On the entrance level, you will find the open plan living / dining area with feature fireplace and a modern fully fitted kitchen with breakfast bar and a utility/laundry room, a double bedroom with en-suite bathroom, and a guest toilet. Upstairs are 2 more en-suite bedrooms, and down on the pool level can be found the 4th en-suite bedroom. The stairway and first floor hallway feature a glass ceiling which provides a wonderful flow of light throughout the villa.

A lovely garden surrounds the villa and the 36m2 swimming pool.

Further features include a built-in charcoal BBQ outside the kitchen, heating and cooling ducted air-conditioning system throughout the villa, electric shutters, off-street parking, WiFi, and IPTV.

Take a short walk to a secluded sandy beach, beach bar/restaurant. Sleepy fishing villages of Burgau and Salema nearby with great restaurants and unspoilt beaches just a short drive away. Charming Lagos is only 15 mins away where you can enjoy great bars/restaurants, new marina, beaches and coves. Parque da Floresta facilities (5 mins drive, fees apply) tennis, bowling, spa and gym, Discounted Green Fees, golf academy, clubhouse with restaurants, kids club and football academy. Surf on west coast just 20 min drive.

Pool heating can be arranged for €200 per week for the period of May to September.


From:
€1,500/week
RATES:
Low Season: €1,500/week
Mid Season: €1,700/week
High Season: €2,500/week
Peak Season: €3,100/week
Nº Licença Alojamento:
106186/AL
GPS (decimal degrees):
37.071600, -8.800707
GPS (dms):
+37º 4' 17.76'', -8º 48' 2.5452''
ENQUIRE NOW
BOOKING REQUEST
PROPERTY MAP
PROPERTY FEATURES:
Construction Area: 250m2
Air Conditioning
Alarm System
Furnished
BBQ
Beach towels
Swimming Pool: Private, Heated
Cable TV
Car Recommended
Hairdryer
Tumble Dryer
Iron & Ironing Board
View: Sea
Coffee Maker
Microwave
Walking distance to the beach
Dishwasher
Washing Machine
WiFi Internet - High Speed (Fibre)
Electric Shutters
WiFi Internet Access
Optional pool heating (€200 per week)
Parking: Off Street Parking
Availability
June 2022
S
M
T
W
T
F
S

1

2

3

4

5

6

7

8

9

10

11

12

13

14

15

16

17

18

19

20

21

22

23

24

25

26

27

28
29
30
July 2022
S
M
T
W
T
F
S
1

2

3

4

5

6

7

8

9

10

11

12

13

14

15

16

17

18

19

20

21

22

23

24

25

26

27

28

29

30

31
August 2022
S
M
T
W
T
F
S

1

2

3

4

5

6

7

8

9

10

11

12

13

14

15

16

17

18

19

20

21

22

23

24

25

26

27

28

29

30

31
September 2022
S
M
T
W
T
F
S
1
2
3
4
5
6
7
8
9
10
11
12
13
14
15
16
17
18
19
20
21
22
23
24
25
26
27
28
29
30
October 2022
S
M
T
W
T
F
S

1

2

3

4

5

6

7

8

9

10

11

12

13

14

15

16

17

18

19

20

21

22

23

24

25

26

27

28

29

30

31
November 2022
S
M
T
W
T
F
S

1

2

3

4

5

6

7

8

9

10

11

12

13

14

15

16

17

18

19

20

21

22

23

24

25

26

27

28

29

30
December 2022
S
M
T
W
T
F
S

1

2

3

4

5

6

7

8

9

10

11

12

13

14

15

16

17

18

19

20

21

22

23

24

25

26

27

28

29

30

31
January 2023
S
M
T
W
T
F
S

1

2

3

4

5

6

7

8

9

10

11

12

13

14

15

16

17

18

19

20

21

22

23

24

25

26

27

28

29

30

31
February 2023
S
M
T
W
T
F
S

1

2

3

4

5

6

7

8

9

10

11

12

13

14

15

16

17

18

19

20

21

22

23

24

25

26

27

28
March 2023
S
M
T
W
T
F
S

1

2

3

4

5

6

7

8

9

10

11

12

13

14

15

16

17

18

19

20

21

22

23

24

25

26

27

28

29

30

31
April 2023
S
M
T
W
T
F
S

1

2

3

4

5

6

7

8

9

10

11

12

13

14

15

16

17

18

19

20

21

22

23

24

25

26

27

28

29

30
May 2023
S
M
T
W
T
F
S
1
2
3
4
5
6
7
8
9
10
11
12
13
14
15
16
17
18
19
20
21
22
23
24
25
26
27
28
29
30
31
Enquire about this property / Booking Request