Marina Village 2 bedroom apartment (SS4-0F)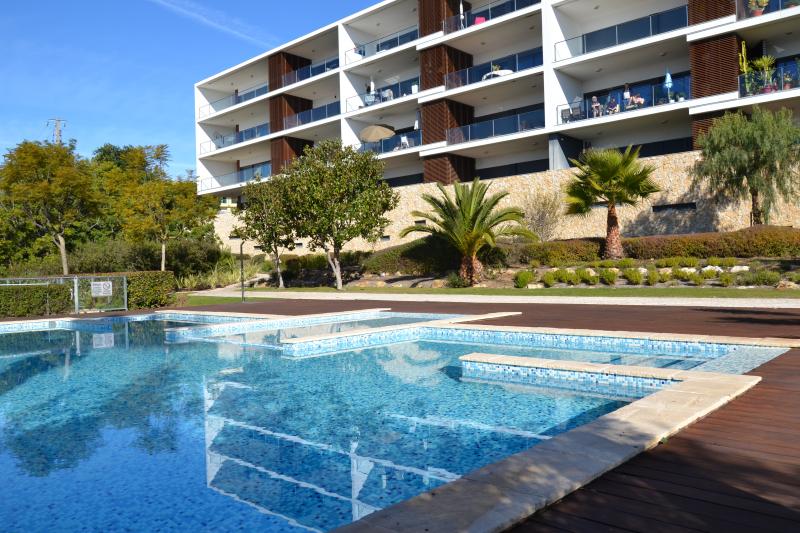 A beautiful spacious 2 bedroom apartment set in a luxury condominium close to the Lagos Marina and the beach.
This fantastic and modern two bedroom apartment is set on the elevated ground floor and offers great views over the pool and the town.

Decorated in a modern style, the living area is filled with natural light and has direct access to the southwest terrace.

The property boasts 2 double-sized bedrooms with fitted wardrobes. The master bedroom also includes an en-suite bathroom and direct access to the terrace. There is also a family bathroom to be shared with both guests and the second bedroom.

The development benefits from a large swimming pool and is surrounded by lovely mature gardens.




From:
€600/week
RATES:
Low Season: €600/week
Mid Season: €700/week
High Season: €850/week
Peak Season: €1,000/week
Titular da Exploração do Estabelecimento:
Sharon Frances Smillie
Nº Licença:
106513/AL
GPS (decimal degrees):
37.114982, -8.672487
GPS (dms):
+37º 6' 53.9352'', -8º 40' 20.9532''
ENQUIRE NOW
BOOKING REQUEST
PROPERTY MAP
PROPERTY FEATURES:
Air Conditioning
Balcony
Beach towels
Swimming Pool: Shared
Hairdryer
Iron & Ironing Board
View: Pool
Walking distance to amenities
Microwave
Close to Town
Walking distance to the beach
Coffee Maker
Washing Machine
Dishwasher
WiFi Internet Access
Electric Shutters
Parking: Parking Space In Communal Garage, On Street Parking
Availability
March 2021
S
M
T
W
T
F
S

1

2

3

4

5

6

7

8

9

10

11

12

13

14

15

16

17

18

19

20

21

22

23

24

25

26

27

28

29

30

31
April 2021
S
M
T
W
T
F
S

1

2

3

4

5

6

7

8

9

10

11

12

13

14

15

16

17

18

19

20

21

22

23

24

25

26

27

28

29

30
May 2021
S
M
T
W
T
F
S

1

2
3
4
5
6
7
8
9
10
11
12
13
14
15
16
17
18
19
20
21
22
23
24
25
26
27
28
29
30
31
June 2021
S
M
T
W
T
F
S
1
2
3
4
5
6
7
8
9
10
11
12
13
14
15
16
17
18
19
20
21
22
23
24
25
26
27
28
29
30
July 2021
S
M
T
W
T
F
S
1
2
3
4
5
6
7
8
9
10
11
12
13
14
15
16
17
18
19
20
21
22
23
24
25
26
27
28
29
30
31
August 2021
S
M
T
W
T
F
S
1
2
3
4
5
6
7
8
9
10
11
12
13
14
15
16
17
18
19
20
21
22
23
24
25
26
27
28
29
30
31
September 2021
S
M
T
W
T
F
S
1
2
3
4
5
6
7
8
9
10
11
12
13
14
15
16
17
18
19
20
21
22
23
24
25
26
27
28
29
30
October 2021
S
M
T
W
T
F
S
1
2
3
4
5
6
7
8
9
10
11
12
13
14
15
16
17
18
19
20
21
22
23
24
25
26
27
28
29
30
31
November 2021
S
M
T
W
T
F
S
1
2
3
4
5
6
7
8
9
10
11
12
13
14
15
16
17
18
19
20
21
22
23
24
25
26
27
28
29
30
December 2021
S
M
T
W
T
F
S
1
2
3
4
5
6
7
8
9
10
11
12
13
14
15
16
17
18
19
20
21
22
23
24
25
26
27
28
29
30
31
January 2022
S
M
T
W
T
F
S
1
2
3
4
5
6
7
8
9
10
11
12
13
14
15
16
17
18
19
20
21
22
23
24
25
26
27
28
29
30
31
February 2022
S
M
T
W
T
F
S
1
2
3
4
5
6
7
8
9
10
11
12
13
14
15
16
17
18
19
20
21
22
23
24
25
26
27
28
Enquire about this property / Booking Request