Quinta da Sao Roque 2 Bed Apartment - MF9B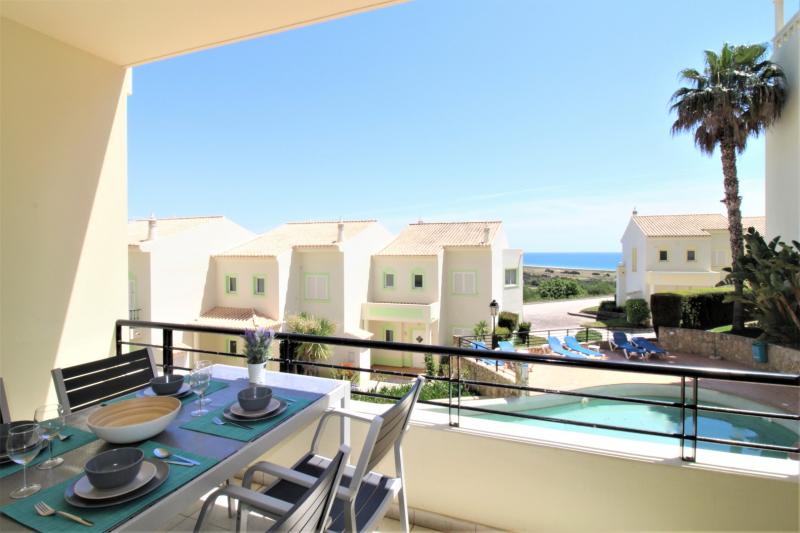 A fantastic 2 bedroom apartment located on top of Meia Praia Beach in Lagos, on an exclusive development with communal swimming pools & mature gardens.
This two-bedroom apartment is beautifully appointed, newly redecorated and furnished, and comes with a fully equipped kitchen, 2 bathrooms including an en-suite.

The living room is great size and leads out to a dining balcony ideal for those early evening drinks or simply enjoying the views over the swimming pool and out to sea.
Both bedrooms are large, the master bedroom with a double bed boasts lovely sea views, and the 2nd bedroom has 2 single beds.

The resort benefits from 2 swimming pools, reception and mature gardens and has amazing sea views as it sits on a hillside looking out to sea close to Meia Praia in Lagos.





From:
€600/week
RATES:
Low Season: €600/week
Mid Season: €700/week
High Season: €825/week
Peak Season: €950/week
Nº Licença Alojamento:
107435/AL
GPS (decimal degrees):
37.123674, -8.651639
GPS (dms):
+37º 7' 25.2264'', -8º 39' 5.9004''
ENQUIRE NOW
BOOKING REQUEST
PROPERTY MAP
PROPERTY FEATURES:
Construction Area: 97m2
Parking: Off Street Parking
Air Conditioning
Golf nearby
Cable TV
Swimming Pool: Shared
Car Recommended
Hairdryer
Central Vacuum
Iron & Ironing Board
View: Sea, Pool
Close to Beach
Coffee Maker
Dishwasher
Microwave
Washing Machine
WiFi Internet - High Speed (Fibre)
Availability
January 2022
S
M
T
W
T
F
S

1

2

3

4

5

6

7

8

9

10

11

12

13

14

15

16

17

18

19

20

21

22

23

24

25

26

27

28

29

30

31
February 2022
S
M
T
W
T
F
S
1
2
3
4
5
6
7
8
9
10
11
12
13
14
15
16
17
18
19
20
21
22
23
24

25

26

27

28
March 2022
S
M
T
W
T
F
S

1

2

3

4

5

6

7

8

9

10

11

12

13

14

15

16

17

18

19

20

21

22

23

24

25

26

27

28

29

30

31
April 2022
S
M
T
W
T
F
S

1

2

3

4

5

6

7

8

9

10

11

12

13

14

15

16

17

18

19

20

21

22

23

24

25

26

27

28

29

30
May 2022
S
M
T
W
T
F
S

1

2

3

4

5

6

7

8

9

10

11

12

13

14

15

16

17

18

19

20

21

22

23

24

25

26

27

28

29
30
31
June 2022
S
M
T
W
T
F
S
1
2
3
4
5
6
7
8
9
10
11
12
13
14
15
16
17
18
19
20
21
22
23
24
25
26
27
28
29
30
July 2022
S
M
T
W
T
F
S
1
2
3
4
5
6
7
8
9
10
11
12
13
14
15
16
17
18
19
20
21
22
23
24
25
26
27
28
29
30
31
August 2022
S
M
T
W
T
F
S
1
2
3
4
5
6
7
8
9
10
11
12
13
14
15
16
17
18
19
20
21
22
23
24
25
26
27
28
29
30
31
September 2022
S
M
T
W
T
F
S
1
2
3
4
5
6
7
8
9
10
11
12
13
14
15
16
17
18
19
20
21
22
23
24
25
26
27
28
29
30
October 2022
S
M
T
W
T
F
S
1
2
3
4
5
6
7
8
9
10
11
12
13
14
15
16
17
18
19
20
21
22
23
24
25
26
27
28
29
30
31
November 2022
S
M
T
W
T
F
S
1
2
3
4
5
6
7
8
9
10
11
12
13
14
15
16
17
18
19
20
21
22
23
24
25
26
27
28
29
30
December 2022
S
M
T
W
T
F
S
1
2
3
4
5
6
7
8
9
10
11
12
13
14
15
16
17
18
19
20
21
22
23
24
25
26
27
28
29
30
31
Enquire about this property / Booking Request