Bay Residence, luxurious apartment with sea view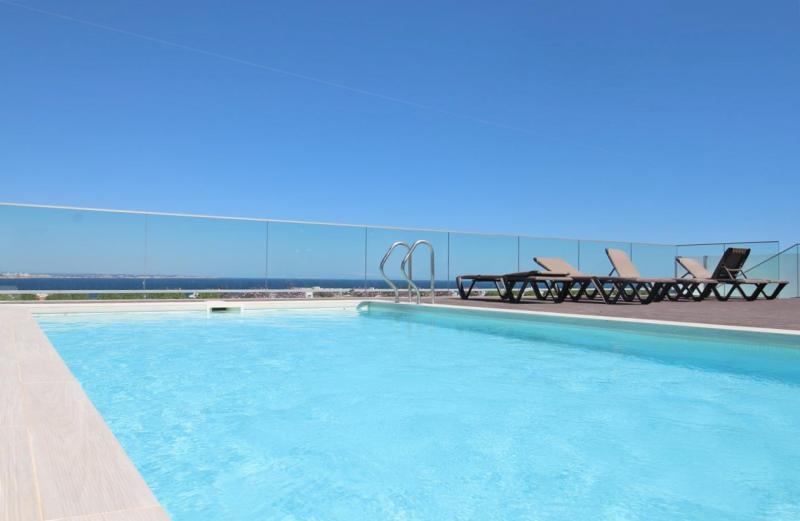 Five star deluxe apartment of the highest standard within Bay Residence, a private condominium with privileged location and unique views over the Bay of Lagos.
Full of light, the open-plan living, kitchen and dining area have access to the extensive balcony through the floor to ceiling sliding doors.

3 spacious bedrooms, 3 stylish bathrooms, one of those enjoying the same spectacular bay view as the living room, and additional balcony serve the other 2 bedrooms.

The shared roof terrace has a heated swimming pool and sun deck, to be enjoyed all year round

Security deposit for holidays €500, for long winter lets €2,000.


From:
€800/week
RATES:
Low Season: €800/week
Mid Season: €900/week
High Season: €1,400/week
Peak Season: €2,000/week
GPS (decimal degrees):
37.095566, -8.679344
GPS (dms):
+37º 5' 44.0376'', -8º 40' 45.6384''
ENQUIRE NOW
BOOKING REQUEST
PROPERTY MAP
PROPERTY FEATURES:
Air Conditioning
Roof Terrace
Furnished
Safe
Balcony
Beach towels
Swimming Pool: Shared
Cable TV
Hairdryer
Iron & Ironing Board
View: Beach, Sea
Walking distance to amenities
Microwave
Coffee Maker
Washing Machine
Dishwasher
Not suitable for young children
WiFi Internet Access
Electric Shutters
Parking: Parking Space In Communal Garage, Off Street Parking
Availability
March 2021
S
M
T
W
T
F
S
1
2
3
4
5
6
7
8
9
10
11
12
13
14
15
16
17
18
19
20
21
22
23
24
25
26
27
28
29
30
31
April 2021
S
M
T
W
T
F
S
1
2
3
4
5
6
7
8
9
10
11
12
13
14
15
16
17
18
19
20
21
22
23
24
25
26
27
28
29
30
May 2021
S
M
T
W
T
F
S
1
2
3
4
5
6
7
8
9
10
11
12
13
14
15
16
17
18
19
20
21
22
23
24
25
26
27
28
29
30
31
June 2021
S
M
T
W
T
F
S
1
2
3
4
5
6
7
8
9
10
11
12
13
14
15
16
17
18
19
20
21
22
23
24
25
26
27
28
29
30
July 2021
S
M
T
W
T
F
S
1
2
3
4
5
6
7
8
9
10
11
12
13
14
15
16
17
18
19
20
21
22
23
24
25
26
27
28
29
30
31
August 2021
S
M
T
W
T
F
S
1
2
3
4
5
6
7
8
9
10
11
12
13
14
15
16
17
18
19
20
21
22
23
24
25
26
27
28
29
30
31
September 2021
S
M
T
W
T
F
S
1
2
3
4
5
6
7
8
9
10
11
12
13
14
15
16
17
18
19
20
21
22
23
24
25
26
27
28
29
30
October 2021
S
M
T
W
T
F
S
1
2
3
4
5
6
7
8
9
10
11
12
13
14
15
16
17
18
19
20
21
22
23
24
25
26
27
28
29
30
31
November 2021
S
M
T
W
T
F
S
1
2
3
4
5
6
7
8
9
10
11
12
13
14
15
16
17
18
19
20
21
22
23
24
25
26
27
28
29
30
December 2021
S
M
T
W
T
F
S
1
2
3
4
5
6
7
8
9
10
11
12
13
14
15
16
17
18
19
20
21
22
23
24
25
26
27
28
29
30
31
January 2022
S
M
T
W
T
F
S
1
2
3
4
5
6
7
8
9
10
11
12
13
14
15
16
17
18
19
20
21
22
23
24
25
26
27
28
29
30
31
February 2022
S
M
T
W
T
F
S
1
2
3
4
5
6
7
8
9
10
11
12
13
14
15
16
17
18
19
20
21
22
23
24
25
26
27
28
Enquire about this property / Booking Request