Boavista Detached Villa 41, 4 bedrooms with private pool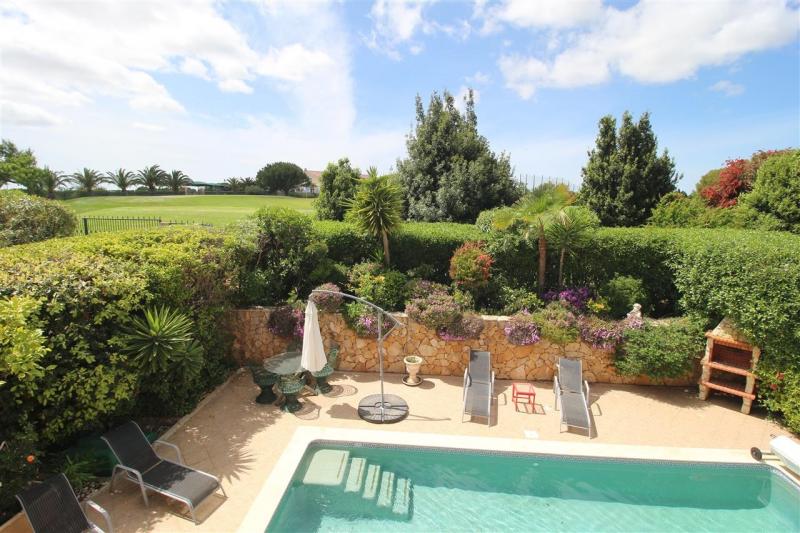 Fabulous 4-bedroom villa with a superb position overlooking the 1st fairway of Boavista Golf resort and offering wonderful views to both the golf course and the sea!
This beautifully presented Mediterranean style 4 bedroom villa sits on a good sized plot with total privacy.

This villa comprises of a spacious open-plan living space with a fully equipped kitchen and dining/living room. Both rooms lead out onto a terrace with beautiful views over the golf course and the sea.

The second floor offers 3 large bedrooms all with fitted wardrobes. The master bedroom is en-suite and has a private terrace with an amazing view. On the ground floor is the 4th bedroom with direct access to the pool area.

All rooms receive natural light and have air conditioning.


From:
€1,800/week
RATES:
Low Season: €1,800/week
Mid Season: €2,000/week
High Season: €2,200/week
Peak Season: €2,700/week
Titular da Exploração do Estabelecimento:
Anoushka Mamatis
Nº Licença:
118220/AL
GPS (decimal degrees):
37.103585, -8.704245
GPS (dms):
+37º 6' 12.906'', -8º 42' 15.282''
ENQUIRE NOW
BOOKING REQUEST
PROPERTY MAP
PROPERTY FEATURES:
Air Conditioning
Fireplace
Furnished
Golf nearby
Beach towels
Swimming Pool: Private
Tennis Court
Car Recommended
View: Sea
Walking distance to resort facilities
Microwave
Washing Machine
Dishwasher
WiFi Internet Access
Electric Shutters
Parking: Off Street Parking
Availability
September 2021
S
M
T
W
T
F
S
1
2
3
4
5
6
7
8
9
10
11
12
13
14
15
16
17
18
19
20
21
22
23
24
25
26
27
28
29
30
October 2021
S
M
T
W
T
F
S
1

2

3

4

5

6

7

8

9

10

11

12

13

14

15

16

17

18

19

20

21

22

23

24

25

26

27

28

29

30

31
November 2021
S
M
T
W
T
F
S

1

2

3

4

5

6

7

8

9

10

11

12

13

14

15

16

17

18

19

20

21

22

23

24

25

26

27

28

29

30
December 2021
S
M
T
W
T
F
S

1

2

3

4

5

6

7

8

9

10

11

12

13

14

15

16

17

18

19

20

21

22

23

24

25

26

27

28

29

30

31
January 2022
S
M
T
W
T
F
S

1

2

3

4

5

6

7

8

9

10

11

12

13

14

15

16

17

18

19

20

21

22

23

24

25

26

27

28

29

30

31
February 2022
S
M
T
W
T
F
S

1

2

3

4

5

6

7

8

9

10

11

12

13

14

15

16

17

18

19

20

21

22

23

24

25

26

27

28
March 2022
S
M
T
W
T
F
S

1

2

3

4

5

6

7

8

9

10

11

12

13

14

15

16

17

18

19

20

21

22

23

24

25

26

27

28

29

30

31
April 2022
S
M
T
W
T
F
S

1

2

3

4

5

6

7

8

9

10

11

12

13

14

15

16

17

18

19

20

21

22

23

24

25

26

27

28

29

30
May 2022
S
M
T
W
T
F
S

1

2

3

4

5

6

7

8

9

10

11

12

13

14

15

16

17

18

19

20

21

22

23

24

25

26

27

28

29

30

31
June 2022
S
M
T
W
T
F
S

1

2

3

4

5

6

7

8

9

10

11

12

13

14

15

16

17

18

19

20

21

22

23

24

25

26

27

28

29

30
July 2022
S
M
T
W
T
F
S

1

2

3

4

5

6

7

8

9

10

11

12

13

14

15

16

17

18

19

20

21

22

23

24

25

26

27

28

29

30

31
August 2022
S
M
T
W
T
F
S

1

2

3

4

5

6

7

8

9

10

11

12

13

14

15

16

17

18

19

20

21

22

23

24

25

26

27

28

29

30

31
Enquire about this property / Booking Request