Adega luxury 3-bedroom apartment, Lagos (KA-5-2A)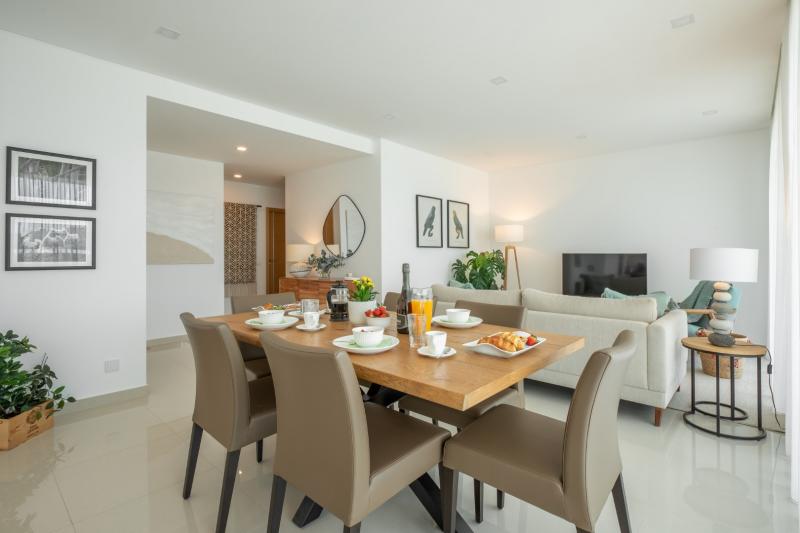 Lovely 3-bedroom apartment in the brand new Adega development, located within walking distance of Lagos old town, the marina, beaches, and everything else you may need.
The owners spend half the year here and have curated a most beautiful and comfortable environment to share with you. No detail has been overlooked, from creature comforts to a kitchen equipped for a chef.

The apartment is located on the quiet side of the Adega development with two large terraces. One overlooks the pool, equipped with oversized rocking chairs to enjoy the morning sun. The second terrace, which faces West with wide open sky views, is furnished with a dining table and chairs for 8+ and two lounging chairs.

The open plan kitchen-dining-living space feels open and light and leads out onto the large Westerly-facing terrace. Thanks to the owner's love for cooking and entertaining, you will be delighted with the kitchen which includes various food processing and beverage equipment, extensive range of cookware, professional knives, and a wide range of service items. This is anything but your typical "rental kitchen". A large Napoleon gas BBQ with side burner extends the kitchen outdoors.

The master bedroom has a king-sized bed and large ensuite bathroom with jacuzzi. The second bedroom has twin beds which can be combined into a king. The third bedroom is designed as a multi-purpose room. It has a very comfortable sofa bed to accommodate additional guests, but also serves as a private office, provides additional floor space for yoga, board games, children floor play, etc. A second guest bathroom has a large shower. All bedrooms have doors to the terraces.

The apartment has all the modern features you would expect: air-conditioning, solar underfloor heating, 4k smart TV, 1 GIG WiFi, built-in sound system, and allocated indoor garage space with standard electrical outlet for plug-in cars. You will have use of the outdoor pool, heated indoor pool, sauna and gym during your stay.

One of the best features of the apartment is its location. You can truly walk to everything Lagos has to offer: historic old town and the marina (5-7 minutes), Meia Praia Beach (10-12 minutes), Ponte de Piedade, farmers markets (2-5 minutes), three supermarkets (5 minutes), dozens of restaurants and bars (1-7 minutes), bus station (5 minutes), and train station (7-10 minutes).

Be sure to check out the owner's personal guide to Lagos and the area. As residents, they provide a local's view to the best of Lagos. Upon request, we are happy to send you their guide in advance so you can better plan your holiday.


From:
€900/week
RATES:
Low Season: €900/week
Mid Season: €1,000/week
High Season: €1,400/week
Peak Season: €1,900/week
Nº Licença Alojamento:
123834/AL
Nº Licença Habitação:
125/2021
GPS (decimal degrees):
37.109472, -8.678746
GPS (dms):
+37º 6' 34.0992'', -8º 40' 43.4856''
ENQUIRE NOW
BOOKING REQUEST
PROPERTY MAP
ENERGY RATING: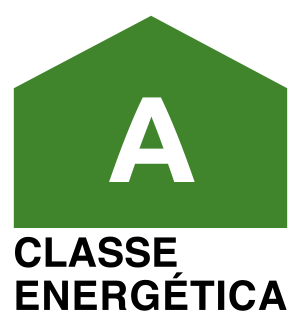 PROPERTY FEATURES:
Construction Area: 133m2
Air Conditioning
Fitted Wardrobes
Balcony
BBQ
Standard electric outlet for EV charging
Beach towels
Swimming Pool: Shared
Gymnasium
Hairdryer
Central sound system
Heating: Underfloor
Video Entry System
Central Vacuum
Iron & Ironing Board
Walking distance to amenities
Walking distance to bus & train stations
Close to Town
Walking distance to resort facilities
Microwave
Walking distance to restaurants
Coffee Maker: Filter, Espresso, French Press
Walking distance to the beach
Dishwasher
Washing Machine
Open Space kitchen
WiFi Internet - High Speed (Fibre)
Elevator
En-suite bathroom
Entertainment: Smart Tv
Parking: Private Garage
Workspace
Equipped Kitchen
Availability
April 2023
S
M
T
W
T
F
S

1

2

3

4

5

6

7

8

9

10

11

12

13

14

15

16

17

18

19

20

21

22

23

24

25

26

27

28

29

30
May 2023
S
M
T
W
T
F
S

1

2
3
4
5
6
7
8
9
10
11

12

13

14

15

16
17
18
19
20
21
22
23
24
25
26
27
28
29
30
31
June 2023
S
M
T
W
T
F
S
1
2
3
4
5
6
7
8
9
10
11
12
13
14
15
16
17
18
19
20
21
22

23

24

25

26

27

28

29

30
July 2023
S
M
T
W
T
F
S

1

2

3

4
5
6
7
8
9
10
11
12
13
14
15
16
17
18
19
20
21
22
23
24
25
26

27

28

29

30

31
August 2023
S
M
T
W
T
F
S

1

2

3

4

5

6

7

8

9

10

11

12

13

14

15

16
17
18
19
20
21
22
23
24
25
26
27
28
29
30
31
September 2023
S
M
T
W
T
F
S
1

2

3

4

5

6

7

8

9

10

11

12

13

14

15

16

17

18

19

20

21

22

23

24

25

26

27

28

29

30
October 2023
S
M
T
W
T
F
S

1

2

3

4

5

6

7

8

9

10

11

12

13

14

15

16

17

18

19

20

21

22

23

24

25

26

27

28

29

30

31
November 2023
S
M
T
W
T
F
S

1

2

3

4

5

6

7

8

9

10

11

12

13

14

15

16

17

18

19

20

21

22

23

24

25

26

27

28

29

30
December 2023
S
M
T
W
T
F
S

1

2

3

4

5

6

7

8

9

10

11

12

13

14

15

16

17

18

19

20

21

22

23

24

25

26

27

28

29

30

31
January 2024
S
M
T
W
T
F
S

1

2

3

4

5

6

7

8

9

10

11

12

13

14

15

16

17

18

19

20

21

22

23

24

25

26

27

28

29

30

31
February 2024
S
M
T
W
T
F
S

1

2

3

4

5

6

7

8

9

10

11

12

13

14

15

16

17

18

19

20

21

22

23

24

25

26

27

28

29
March 2024
S
M
T
W
T
F
S

1

2

3

4

5

6

7

8

9

10

11

12

13

14

15

16

17

18

19

20

21

22

23

24

25

26

27

28

29

30

31
Enquire about this property / Booking Request