Adega luxury 3-bedroom apartment, Lagos (NB-7-3A)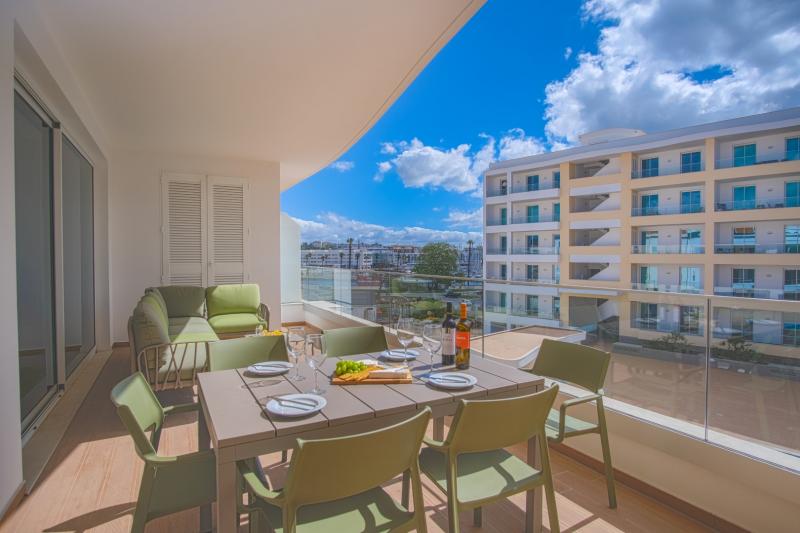 Sophisticated, new apartment with a relaxing, south-east facing balcony overlooking the pool and the marina, high-speed wi-fi, and within walking distance of beach and town.
This top floor property has been beautifully finished with special attention to the selection of the art, design, colours, and comfort. We especially love the spacious balcony with both lounging and dining furniture overlooking the pool terrace.

The balcony is accessed from the open-plan kitchen-dining-living area with large patio doors filling the space with light. The living room has a smart TV and the kitchen is fully equipped with the latest Bosch appliances and a wine fridge to hold your favourite Portuguese wine from the wineries in the neighbouring towns or from the wine shop next door. It is also ideally suited to work virtually with the high speed WiFi along with each room being hard-wired with ethernet connection.

There are 3 bedrooms to sleep 6 (max 4 adults): the master bedroom with king-sized bed and an en-suite bathroom with jacuzzi bath; the 2nd bedroom also has a king-sized bed; and the 3rd bedroom has a sofa-bed along with a workspace. There is a shower-room to serve bedroom 2 and 3.

Other features include air-conditioning throughout the apartment for cooling and heating, underfloor heating, integrated sound system, electric window blinds, electric BBQ, washer and dryer, allocated parking space in the basement garage, and high speed WiFi.

As well as the outdoor swimming pool and kids pool, guests have access to the heated indoor pool, sauna, jacuzzi, and gym.

Lagos is a lovely historic town, from where Portugal's famous explorers set sail in the great age of discoveries and where you can enjoy some of the best beaches the Algarve has to offer and Ponta da Piedade with its amazing rock formations and hidden caves. Although now a lively and bustling town with an award winning marina and many cafes, unique shops, bars and some superb quality restaurants, Lagos retains the gentle atmosphere that is characteristic of Portugal and its people, providing a delightful insight into Portuguese life.

This property is ideally situated to be able to stroll along the beautiful Portuguese patterned calçada tiles to the marina, supermarkets, the historic Old Town, amazing restaurants, and the most beautiful beaches in the world, yet just far enough away from the hustle and bustle to be able to retreat to your peaceful sanctuary.


From:
€900/week
RATES:
Low Season: €900/week
Mid Season: €1,000/week
High Season: €1,400/week
Peak Season: €1,800/week
Nº Licença Alojamento:
123904/AL
Nº Licença Habitação:
125/2021
GPS (decimal degrees):
37.109846, -8.678804
GPS (dms):
+37º 6' 35.4456'', -8º 40' 43.6944''
ENQUIRE NOW
BOOKING REQUEST
PROPERTY MAP
ENERGY RATING: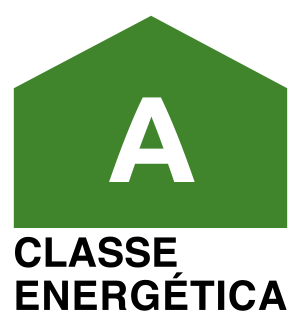 PROPERTY FEATURES:
Construction Area: 133m2
Air Conditioning
Safe
Sauna
Balcony
BBQ
Beach towels
Swimming Pool: Shared, Indoor
Cable TV
Gymnasium
Hairdryer
Tumble Dryer
Central sound system
Heating: Underfloor
Iron & Ironing Board
View: Marina, Pool
Walking distance to amenities
Walking distance to bus & train stations
Close to Town
Walking distance to resort facilities
Microwave
Walking distance to restaurants
Coffee Maker: Capsule
Walking distance to the beach
Dishwasher
Washing Machine
Open Space kitchen
WiFi Internet - High Speed (Fibre)
Elevator
Entertainment: Smart Tv
Parking: Parking Space In Communal Garage
Workspace
Availability
June 2022
S
M
T
W
T
F
S
1
2
3
4
5
6
7
8
9
10
11
12
13
14
15
16
17
18
19
20
21
22
23
24

25

26

27

28

29

30
July 2022
S
M
T
W
T
F
S

1

2

3

4

5

6

7

8

9

10

11

12
13
14
15
16
17
18
19
20
21

22

23

24

25

26

27

28

29

30

31
August 2022
S
M
T
W
T
F
S

1

2

3

4

5

6

7

8

9

10

11

12

13

14

15

16

17

18
19

20

21

22

23

24

25

26
27
28
29
30
31
September 2022
S
M
T
W
T
F
S

1

2

3

4

5

6

7

8

9

10

11

12

13

14

15

16

17

18

19

20

21

22

23

24

25

26

27

28

29

30
October 2022
S
M
T
W
T
F
S
1
2
3
4
5
6
7
8
9
10
11
12
13
14
15
16
17
18
19
20
21
22
23
24
25
26
27
28
29
30
31
November 2022
S
M
T
W
T
F
S
1
2
3
4
5
6
7
8
9
10
11
12
13
14
15
16
17
18
19
20
21
22
23
24
25
26
27
28
29
30
December 2022
S
M
T
W
T
F
S
1
2
3
4
5
6
7
8
9
10
11
12
13
14
15
16
17
18
19
20
21
22
23
24
25
26
27
28
29
30
31
January 2023
S
M
T
W
T
F
S
1
2
3
4
5
6
7
8
9
10
11
12
13
14
15
16
17
18
19
20
21
22
23
24
25
26
27
28
29
30
31
February 2023
S
M
T
W
T
F
S

1

2

3

4

5

6

7

8

9

10

11

12

13

14

15

16

17

18

19

20

21

22

23

24

25

26

27

28
March 2023
S
M
T
W
T
F
S

1

2

3

4

5

6

7

8

9

10

11

12

13

14

15

16

17

18

19

20

21

22

23

24

25

26

27

28

29

30

31
April 2023
S
M
T
W
T
F
S

1

2

3

4

5

6

7

8

9

10

11

12

13

14

15

16

17

18

19

20

21

22

23

24

25

26

27

28

29

30
May 2023
S
M
T
W
T
F
S
1
2
3
4
5
6
7
8
9
10
11
12
13
14
15
16
17
18
19
20
21
22
23
24
25
26
27
28
29
30
31
Enquire about this property / Booking Request