Adega luxury 2-bedroom apartment, Lagos (DM-3-2B)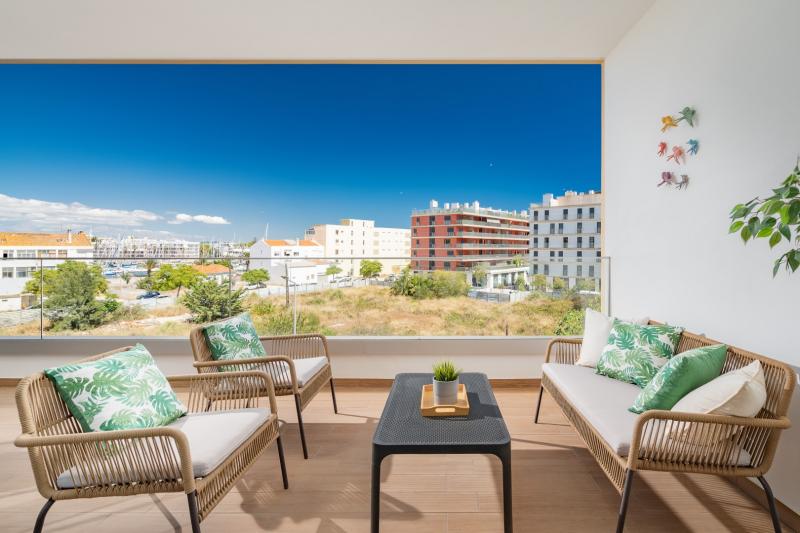 Superb 2 bedroom apartment in the new Adega development with views of Lagos Marina and within walking distance of Lagos town centre, beach, shops and restaurants.
This beautiful apartment is perfect for guests looking for both luxury and location.

Built and finished to the highest standard it is tastefully furnished throughout. The spacious open plan living/dining room leads out to a large balcony, where you can enjoy a BBQ, drinks or dinner. As well as a table and chairs, there is comfortable seating area with views to the Marina and river.

The kitchen is fully equipped with top of the range appliances, including induction hob, oven, fridge-freezer, microwave, washing machine and dishwasher.

The double bedroom and twin bedroom both have patio doors out to a second balcony overlooking the pool. There is an en-suite bathroom with jacuzzi bath and a separate shower room.

Features include air conditioning throughout, underfloor heating, electric window blinds, BBQ, high speed Wi-Fi and parking space in the underground garage.

Guests have access to the outdoor swimming pool and to the Spa area, with indoor pool, gym, and sauna.

Lagos Marina, Old Town and beaches are all just a short walk away and there are cafes, restaurants and shops on your doorstep. All amenities are within walking distance and if you want to explore further afield, Lagos bus station and train station are also nearby.





From:
€800/week
RATES:
Low Season: €800/week
Mid Season: €900/week
High Season: €1,100/week
Peak Season: €1,600/week
Nº Licença Alojamento:
128277/AL
Nº Licença Habitação:
125/2021
GPS (decimal degrees):
37.109707, -8.678184
GPS (dms):
+37º 6' 34.9452'', -8º 40' 41.4624''
ENQUIRE NOW
BOOKING REQUEST
PROPERTY MAP
ENERGY RATING: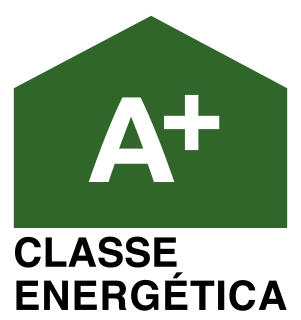 PROPERTY FEATURES:
Construction Area: 121m2
Air Conditioning
Fitted Wardrobes
Balcony
BBQ
Beach towels
Swimming Pool: Shared, Indoor, Childrens
Cable TV
Gymnasium
Hairdryer
Central sound system
Heating: Underfloor
Video Entry System
Iron & Ironing Board
Walking distance to amenities
Close to Beach
Walking distance to bus & train stations
Close to Town
Coffee Maker: Capsule
Microwave
Walking distance to restaurants
Walking distance to the beach
Dishwasher
Washing Machine
WiFi Internet - High Speed (Fibre)
Elevator
En-suite bathroom
Entertainment: Smart Tv
Parking: Parking Space In Communal Garage
Equipped Kitchen
Availability
April 2023
S
M
T
W
T
F
S

1

2

3

4

5

6

7

8

9

10

11

12

13

14

15

16

17
18
19
20
21

22

23

24

25

26

27

28

29

30
May 2023
S
M
T
W
T
F
S
1
2
3
4
5
6
7

8

9

10

11

12

13

14

15

16
17
18
19
20

21

22

23

24

25

26

27

28

29

30

31
June 2023
S
M
T
W
T
F
S

1

2

3

4

5

6

7

8

9

10
11
12
13
14
15
16
17
18
19
20
21
22
23
24
25
26
27
28

29

30
July 2023
S
M
T
W
T
F
S

1

2

3

4

5

6

7

8

9

10

11

12
13
14
15
16
17
18
19
20
21
22
23
24
25
26
27
28
29
30
31
August 2023
S
M
T
W
T
F
S
1
2
3
4
5

6

7

8

9

10

11

12

13

14

15

16

17
18
19
20
21
22
23
24
25
26
27
28
29
30
31
September 2023
S
M
T
W
T
F
S
1
2
3
4
5
6
7
8
9
10
11
12
13
14
15
16
17
18
19
20
21
22
23
24
25
26
27
28
29
30
October 2023
S
M
T
W
T
F
S
1
2
3
4
5
6
7
8
9
10
11
12
13
14
15
16
17
18
19
20
21
22
23
24
25
26
27
28
29
30
31
November 2023
S
M
T
W
T
F
S
1
2
3
4
5
6
7
8
9
10
11
12
13
14
15
16
17
18
19
20
21
22
23
24
25
26
27
28
29
30
December 2023
S
M
T
W
T
F
S
1
2
3
4
5
6
7
8
9
10
11
12
13
14
15
16
17
18
19
20
21
22
23
24
25
26
27
28
29
30
31
January 2024
S
M
T
W
T
F
S
1
2
3
4
5
6
7
8
9
10
11
12
13
14
15
16
17
18
19
20
21
22
23
24
25
26
27
28
29
30
31
February 2024
S
M
T
W
T
F
S
1
2
3
4
5
6
7
8
9
10
11
12
13
14
15
16
17
18
19
20
21
22
23

24

25

26

27

28

29
March 2024
S
M
T
W
T
F
S

1

2

3

4

5

6

7

8

9

10

11

12

13

14

15

16

17

18

19

20

21

22

23

24

25

26

27

28

29

30

31
Enquire about this property / Booking Request